Two Colorado School of Mines students on a path to become secondary school teachers were named to the state Department of Higher Education's inaugural Aspiring Educator Honor Roll in ceremonies at the State Capitol on May 8, kicking off national Teacher Appreciation Week.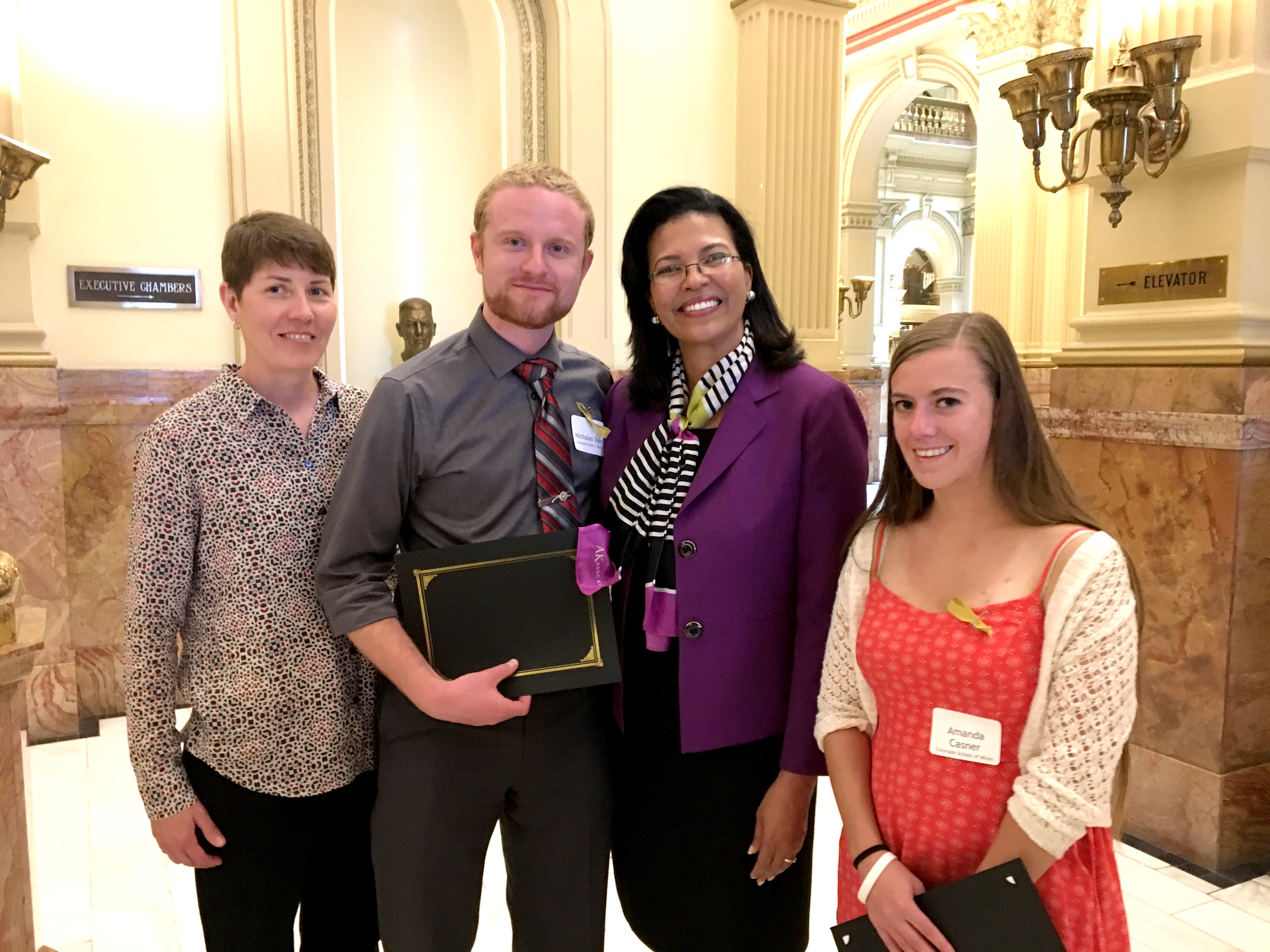 From left, TEAM-UP Lead Teacher in Residence Stephanie Fanselow, Nicholas Dyer, CDHE Executive Director Kim Hunter-Reed and Amanda Casner
Amanda Casner, engineering physics, and Nicholas Dyer, computer science, were chosen for the honor by the leadership of TEAM-UP, or the Teacher Education Alliance Mines-UNC Partnership. The program integrates 21 credits of the professional teacher education program, delivered by the University of Northern Colorado, into existing Mines degree programs.
Two outstanding students from each of Colorado's 22 educator preparation programs were named to the honor roll.
Casner wanted to be a teacher from an early age. After high school, her love of math and science led her to Mines, where she will soon graduate with minors in mathematical science and planetary science in addition to her engineering physics degree.
Casner was a teaching assistant for Introductory Physics, interned with Generation Teach and has field experience in several local classrooms. In 2015, she was one of only six recipients of the Barbara Lotze Scholarship for Future Teachers from the American Association of Physics Teachers. Casner also received Noyce Scholarship from TEAM-UP this year and completes her secondary teaching license this December.
"Amanda is equal parts physicist and educator, caring deeply about both the content and the students she is teaching," according to TEAM-UP.
Dyer, a junior, came to Mines because of his interest in computers, but discovered a passion for working with students after a summer working as a camp counselor for ID Tech. He is now pursuing a secondary mathematics teaching license and is president of the Mines Teacher Education Alliance student club.
For his commitment to teaching in high-needs schools, Dyer was selected as a TEAM-UP Noyce Scholar this year. He has taken the optional Early Field Experience course three times, taking every opportunity to be in the classroom.
"We are selecting Nicholas because his passion for teaching is infectious," TEAM-UP said.
"This ceremony recognizes the tremendous impact our future educators will have on their students and the state of Colorado broadly," said Kim Hunter Reed, executive director of the state Department of Higher Education.
"Educators are training the next generation of artists, engineers, scientists and health professionals that will power our economy and enliven our communities," Reed said. "They truly make all other professions possible. We want all teachers and administrators—and especially our young educators—to know Coloradans support and appreciate their invaluable work."
TEAM-UP is led by co-directors Kristine Callan, Mines teaching professor of physics, and UNC faculty Wendy Adams and Christy McConnell. Physics Teaching Professor Hsia-Po Vince Kuo serves on the program's leadership committee and its advisory board, which also includes fellow Mines faculty Renee Falconer, chemistry teaching professor, and Cyndi Rader, computer science teaching professor.
Visit the Colorado Department of Higher Education website for more information and the full honor roll.
Contact:
Mark Ramirez, Managing Editor, Communications and Marketing | 303-273-3088 | ramirez@mines.edu
Ashley Spurgeon, Assistant Editor, Mines Magazine | 303-273-3959 | aspurgeon@mines.edu