Mines student team wins international wastewater design competition
Mines took first place in the 2020 WEF Student Design Competition for design to help Colorado Springs Utilities achieve compliance with new state regulations on effluent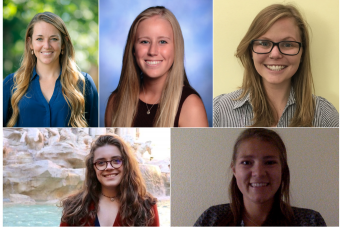 A team of environmental engineering students from Colorado School of Mines won an international design competition sponsored by the Water Environment Federation (WEF).
The Mines team – Gillian Allison, Kelsey Buechler, Tori Heckart, Kayla Hubbard and Kate Stephens – won first place in the wastewater category of the 2020 WEF Student Design Competition, held virtually September 23-24 as part of the annual WEFTEC convention.
A total of 16 teams from four countries participated in wastewater design competition, one of two categories that students could choose from in the 27-team event. In the wastewater category, teams were charged with designing solutions to real-world challenges within water resource recovery facilities in their region, such as hydraulic capacity increases, treatment system upgrades, biosolids management and resource recovery.
"School of Mines has never participated in the competition before," said Heckart, who graduated in May with a bachelor's degree in environmental engineering. "It was super exciting. We had no idea we'd make it past the regional round when we first started."
The Mines team, co-advised by Chris Bellona, associate professor of civil and environmental engineering, and Kathryn Newhart PhD '20, was initially assembled as part of a senior-level civil and environmental engineering course on water and wastewater treatment system design. As part of the course, the team won the Rocky Mountain Water Environment Association regional competition in May, beating out perennial favorites University of Colorado and Colorado State University to earn a spot in the international finals.
Their project, "Nutrient Optimization for Municipal Wastewater Facilities in Colorado," focused on Colorado Springs Utilities – the second-largest water utility in the state – and achieving compliance with new Colorado state regulations that create strict limits for municipal wastewater facilities on total nitrogen and total phosphorus in effluent.
"It's really expensive and intensive to try to treat effluent to the levels that the Colorado Department of Public Health and Environment is wanting. But if you can show you're getting steady reductions every year they will push out the deadline for compliance with the new limits," Heckart said.
Their solution was to propose a retrofit of the existing secondary treatment system to help Colorado Springs Utilities achieve steady reductions year over year.
And while the COVID-19 pandemic certainly made preparing their conceptual design proposal a challenge, not being together on campus this spring and summer also forced the team to work smarter and reach out to more people in industry than they may have during a normal semester, Heckart said.
"Colorado Springs Utilities has asked to see our report since we won – they might actually take some of our recommendations into consideration," Heckart said. "It was really cool to see what was going around the country with wastewater and innovative solutions. It was all about having students feel what it was like to be a consultant in the wastewater industry."
Maybe even more exciting is the fact that Heckart and her teammates have also been able to parlay the experience into job offers in the wastewater industry. All five team members graduated in May with bachelor's degrees in environmental engineering, with Hubbard, Buechler and Heckart returning to Mines this fall to complete master's degrees.
"Even though I'm back at school, I've started a job, too," an offer she received after the team won the regional competition back in May, Heckart said. "Everything we did for this competition is directly applicable to what I've been doing for my new job. We got real experience working with a large-scale utility in Colorado and we got to talk to a ton of people in industry. It was a great opportunity and now we all have this amazing foot in the door in this industry we're passionate about."