Mines student honored as 2020 National Gold Award Girl Scout
Callie McCaffery, a mechanical engineering major, developed a simple insulin calculator for her Gold Award project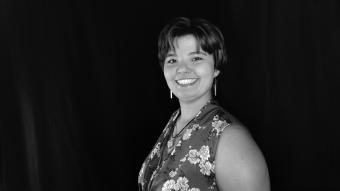 A first-year student at Colorado School of Mines has been named a 2020 National Gold Award Girl Scout, the top honor from the Girl Scouts of the USA.
Callie McCaffery, a mechanical engineering major, is one of just 10 Girl Scouts nationwide to receive the honor every year. The National Gold Award recognizes Girl Scout seniors and ambassadors whose Gold Award projects demonstrated extraordinary leadership, had a measurable and sustainable impact and addressed a local challenge related to a national and/or global issue.
McCaffery, from Bakersfield, California, developed a simple insulin calculator for her Gold Award project, inspired by her younger brother, Jack, who was diagnosed with Type I diabetes a couple of years ago.
"When he was diagnosed, there were a litany of problems that my family faced," McCaffery said. "I've always been a problem-solver. I couldn't fix Type I diabetes, so I found a problem that I could fix."
That problem: the challenge of manually calculating the necessary units of insulin that Jack required at any given time during the "honeymoon period" before he could receive his insulin pump.
"It's a very common misconception that they just hook you up to a pump and the technology takes care of everything," McCaffery said. "There's a phase for most Type I diabetics called the honeymoon phase where their body still creates some insulin but it's not enough to do what it needs to do. You can't have a pump during that time period and it can last up to two years. Pumps are also really expensive and upkeep isn't cheap, either. Not everyone can afford them."
"Initially, they give you a giant spreadsheet with your ratios over here and the time of day over here – because your ratios change based on the time of day – and what you're going to eat and your carbs and your blood sugar," she said. "The math is not very difficult, but it's fractions and everybody hates fractions. Imagine being not super happy with fractions, coupled with this being someone you care about. If you do it wrong, they could end up really sick."
Her solution was to build a simple, sharable calculator that cuts the math out of the equation entirely for both diabetics and their caretakers.
She settled on the web-based Google Sheets after trying to create an app-based version on her own. "I tried two or three different languages and just couldn't figure out how to turn it into an app," she said.
But she didn't give up there. Instead, she pitched the concept to BitWise, a tech company near her hometown in California – the company liked the idea so much they agreed to build an app-based version of the calculator completely pro bono, she said.
"It ended up being a great thing, because with the tech company's help, we're going to expand my project beyond what I ever thought it was going to be," she said.
"There isn't an app like this out there right now," McCaffery added. "It's kind of shocking actually – there are all sorts of trackers and all these ways to look at your data and numbers over the past year and a half. But if you wanted to watch Jack, there's no app you could just look at, get the necessary insulin units and then feed him."
A Vanguard Scholar at Mines, McCaffery chose Golden over larger engineering schools like Cal Poly because of the opportunities and more personal feel that Mines' smaller size offers. The proximity to the mountains didn't hurt, either, she said.
Her advice for other Girl Scouts considered going for their Gold Awards? "Pick a project you believe in and go after that," she said. "That's how you succeed. You don't go after the success – go after your project and the success will come with it."