Mines senior selected to join Schwarzman Scholars Class of 2021
Parker Bolstad, an environmental engineering major, is the first Mines student to win the prestigious graduate fellowship to study at Tsinghua University in Beijing.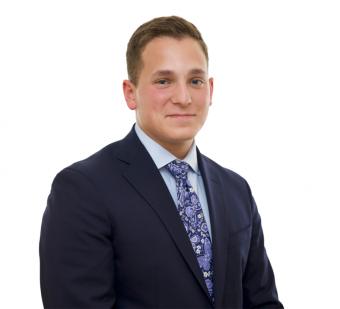 Parker Bolstad, a senior majoring in environmental engineering, has been selected as a Schwarzman Scholar to pursue his graduate studies in China.
Bolstad, the first Mines student to win a Schwarzman, was one of 145 students from around the world awarded the prestigious graduate fellowship to Schwarzman College at Tsinghua University in Beijing.
Founded by Stephen A. Schwarzman, co-founder, chairman and CEO of the private equity firm Blackstone, the Schwarzman fellowship provides support for a one-year master's degree in global affairs at Tsinghua University, as well as access to internships, mentorship, high-profile speakers and travel opportunities throughout China.
The Schwarzman Class of 2021 includes students from 41 countries and 108 universities, chosen from a pool of more than 4,700 applicants. Inspired by the Rhodes Scholarship, the Schwarzman program was launched in 2015 to prepare future global leaders to meet the geopolitical challenges of the 21st century through a deeper understanding of China.
"The world needs leaders with strong technical skills, exemplary character, courage to tackle difficult topics, a curious and entrepreneurial mindset, and a desire to effect positive change in the world. That is Parker— a student I know well and admire for his broad-ranging pursuits and contributions to the Mines community, and his deep desire to be a change agent for good in the world," said Mines President Paul C. Johnson. "We are proud to have Parker represent Mines as our first-ever Schwarzman Scholar and I am personally excited to see what he does next."
Bolstad, of Forest Hill, Maryland, is a U.S. Army ROTC cadet and McBride Honors student who will graduate summa cum laude in December with a bachelor's degree in environmental engineering, as well as minors in economics, military science and public affairs.
His interest in public policy grew slowly during his time at Mines, he said, nurtured by internships and fellowships with the United Nations, Congressional Research Service, U.S. Senator Michael Bennet and the Hoover Institute.
"It is clear to me that the problems of the 21st century are global in nature," Bolstad said. "Unilateral plans by one country to tackle, for example, climate change, automation and quantum computing are, from the outset, doomed for failure. The world is more connected than ever and future solutions need to be global in nature and scope."
On campus, Bolstad has served in multiple leadership roles, including operations officer in the Army ROTC Golden Buffalo Battalion and lead peer mentor for CSM101, the required first-year student success course. He is also a core member of the Mines Ethics Bowl team that qualified for nationals all four years he has participated.
Following his graduation from Mines, Bolstad plans to through-hike the Appalachian Trail before beginning his studies in China next August. After his year as a Schwarzman Scholar, he will enter the U.S. Army as an active-duty military intelligence officer.
"Being an environmental engineer, climate change is my casus belli. And as I look out into the world, I see China as the most important country in regards to this topic. They are the largest single emitter of carbon dioxide in the world and they are on the cutting edge of renewable technology," Bolstad said. "If I want to go out into the world and effect change regarding the environment, I need an understanding of China and I am, therefore, extremely grateful for this opportunity to spend the next year studying as a Schwarzman Scholar in Beijing."