Make that five years in a row: Mines Ethics Bowl team qualifies for nationals
The National Intercollegiate Ethics Bowl will be held in February during the Association for Practical and Professional Ethics annual conference in Atlanta.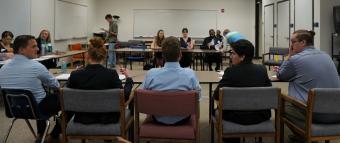 Colorado School of Mines is headed to the National Intercollegiate Ethics Bowl for the fifth year in a row.
The Mines Ethics Bowl team went undefeated at the Rocky Mountain Regionals on Nov. 17, posting four wins, zero losses and one tie against teams from the University of Nebraska, Colorado State University, Adams State University and the University of Colorado-Colorado Springs.
The first-place finish earned Mines an automatic berth in the national finals, set for Feb. 22-23 in Atlanta, Georgia, during the Association for Practical and Professional Ethics annual conference.
"Year after year I've been amazed by the discipline and dedication that the Mines team demonstrates. The nature of a college competition—students graduate and new students join—makes it especially impressive that we've earned a bid to nationals for the last five years. That speaks to the talent and dedication of the students who join as well the students who mentor them," said Sandy Woodson, teaching professor of humanities, arts and social sciences and the team's faculty advisor. "It's a joy to work with such a fantastic group."
Forming this year's squad are:
Amy Blatnick, a junior majoring in metallurgical and materials engineering
Parker Bolstad, a senior in environmental engineering
David Churchwell, a junior in geophysical engineering
Jessica DiCaprio, a junior in environmental engineering
Thomas Deisz, a junior in electrical engineering and computer science
Anamika Misra, a freshman in environmental engineering
Paulette Ozaeta, a sophomore in chemical engineering
In Ethics Bowl, teams of three to five students compete to best argue and defend moral assessments of the most complex ethical issues facing today's society. Teams are judged on their ability to demonstrate their understanding of the facts, articulate ethical principles, present an effective argument and respond effectively to challenges from the opposing team and judges.
Around Labor Day, each team received 15 cases, with brief narratives outlining some of the issues raised by each case. At regionals, 10 of those 15 cases were debated, with no team knowing the chosen cases—or questions—in advance.
This year, the regional cases included student loan forgiveness, religious exemptions from vaccination requirements, marijuana legalization and social justice, and student climate change strikes. The 17 cases for nationals will be distributed in December, with the Mines team starting its work on them over winter break.