Mines senior design team wins regional concrete canoe competition
The first-place win qualifies the team, Statera, for the Society-wide competition.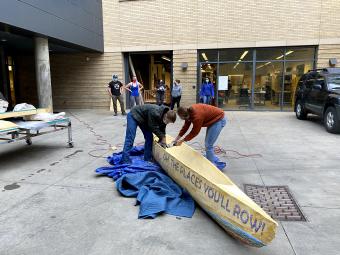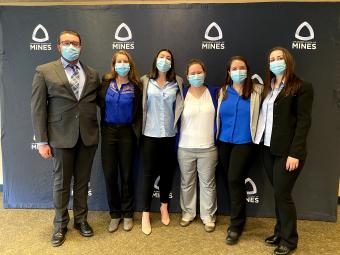 Despite weighing nearly four times more than the average canoe, the Mines Concrete Canoe team has no plans to join Davy Jones' locker after their performance in April. The team – Statera - took first place at the American Society of Civil Engineers (ASCE) regional competition, qualifying them for the Society-wide competition.
The team is made up of civil engineering students Celeste Carmignani, Isabel Whitehead, April Jergensen, Katheryn Bullard, Krystofer Pajka, Delaney Brown and Brittany Hawk.
The name Statera is significant for the senior design team.
"Following a medieval theme, we looked up Latin words that encompassed our goals for this year's competition," Celeste Carmignani, concrete canoe project manager, said. "Statera, the Latin word for balance, stuck out to us"
The final canoe came in at 18.5' long, with a max width of 28", max depth of 18" and an average thickness around half an inch, weighing an estimated 222 lbs.
"Blood, sweat and tears brought us together. Passion, dedication, grit and determination drove this team through eight months of hard work to win Regionals," said Carmignani.
Next up, Statera is competing in the Society-Wide competition, hosted by the University of Wisconsin-Platteville as a virtual conference, June 25-27.