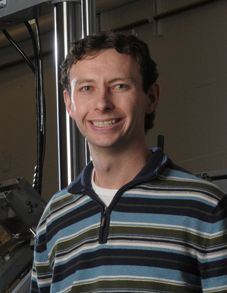 Kip Findley
GOLDEN, Colo., July 8, 2015 – A research project led by Mines faculty in the G.S. Ansell Department of Metallurgical and Materials Engineering has been awarded by the U.S. Department of Energy's Nuclear Energy University Programs. 
Kip Findley, associate professor in Metallurgical and Materials Engineering, is the principal investigator on the team that includes Michael Kaufman, MME professor and dean of the College of Applied Science and Engineering, and Richard Wright of the Idaho National Laboratory. Additionally, graduate students and undergraduate researchers will be on the research team and will be trained in metallurgical issues related to nuclear materials.
The $746,076 project, "Assessment of Aging Degradation Mechanisms of Alloy 709 for Sodium Fast Reactors," is focused on how Alloy 709, a high-Ni stainless steel, behaves under accelerated testing conditions.
A primary goal of the project is to provide a better understanding of the potential use of this alloy in structural applications for advanced nuclear reactors. This alloy will be subjected to conditions that simulate long-term exposures at service temperatures and will include conducting both creep and creep-fatigue tests. After testing, the materials will be characterized using the various advanced analytical characterization techniques available at Mines.
Contact:
Mark Ramirez, Information Specialist, College of Applied Science & Engineering | 303-384-2622 | ramirez@mines.edu
Karen Gilbert, Director of Public Relations, Colorado School of Mines | 303-273-3541 | kgilbert@mines.edu