Mines researchers aim to improve understanding of water's role in climate change
As emissions change snowpack melt, hydropower generation could fail in the near future, Mines' Adrienne Marshall said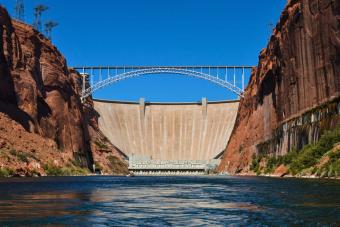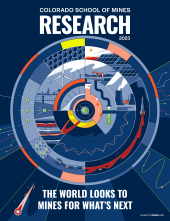 By Jen A. Miller, Special to Mines Research
Climate change is altering water resources in the western U.S., especially when it comes to snowpack: how much snow there is, how it's melting and when. These factors have profound effects on reliable sources of both water availability and hydropower.
"When I think about water resources, I think about how much water we have in our rivers and then how changes to our climate affect the timing of when that water flows downstream," said Adrienne Marshall, assistant professor of geology and geological engineering at Mines. "Both of those things change depending on precipitation changes and snowpack melt, which are being—and will continue to be—affected by climate change."
Marshall's research, which is supported by a National Science Foundation IGERT grant and the Carnegie Institution of Washington, focuses on understanding how climate change impacts snow hydrology, such as how snow drifts change and how precipitation intensity mitigates or exacerbates the effects of warming on winter snowmelt.
She hopes that her work leads to better management of hydropower. While hydropower only accounts for 6.3 percent of total U.S. electric generation right now, it will play a bigger and more key role in a decarbonized electrical grid, particularly in the western U.S. For example, water elevations at Lake Powell reached historic lows in 2022. If the water level drops too low, the Glen Canyon Dam, which typically supplies electricity toWyoming, Utah, Colorado, New Mexico, Arizona, Nevada and Nebraska, won't be able to generate hydropower. The Bureau of Reclamation estimates that without any changes to how water is used, there's a 23 percent chance the dam won't make any power by 2024 — or sooner.
"If that happens, it will be a massive problem, because so many people throughout the region depend on it to keep the lights on," Marshall said.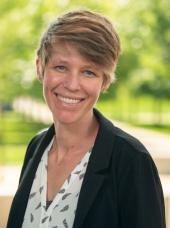 But hydropower is a major player in the U.S. energy future when combined with other energy sources. "As we get more solar and wind power online, hydropower becomes especially important because it can turn on relatively quickly to fill gaps when the sun isn't shining or the wind isn't blowing," she said. Hydropower can also be turned on without another power source, which is critical during outages.
A key to better hydropower management is understanding how snow pack has changed and is likely to change, which will affect the availability and timing of water used for power. In one study, for example, Marshall looked at the probability of the western U.S. having two low snow years in a row and then how much more common those multiyear droughts are likely to become under a high-emissions warming scenario. She and her team found about a six-fold increase in that risk, which would lead to "considerable changes in the snow pack," she said.
This information will change "how we operate dams given what we can expect in changes to stream flow and timing," she said. If dam operators know that snow pack will melt in a different way — like earlier in the season, or that there will be less of it to melt — they can better plan that.
Her work is also contributing to the mountain of evidence that climate change will continue to change our world if emissions do not change. "There are a lot of creative people working on how we can adjust our management of our water systems and forest management to try to account for these changes and try to adapt, but we really need to reduce emissions," she said.
Marshall is part of Mines' tradition of being a leader in nationwide water research. For example, Mines is one of 14 founding university members of the Cooperative Institute for Research Operations in Hydrology, funded by $360 million from the National Oceanic and Atmospheric Administration.
"As scientists, we need to lead the way for society to have a better understanding of how climate change is affecting our water resources," she said. "Being able to say these changes are ahead with confidence is important for understanding this problem and that there are very good reasons to work on mitigation solutions."