Mines ranks third on list of best engineering colleges
Money Magazine recognized Mines as one of the best places to learn how to be an engineer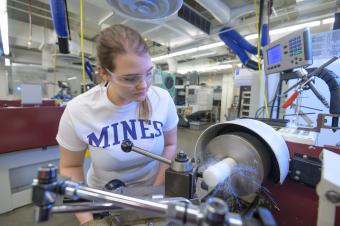 Colorado School of Mines is a top pick for engineering majors, ranking No. 3 on a list of the top 10 engineering colleges by Money Magazine.
Only the Georgia Institute of Technology and Massachusetts Institute of Technology ranked higher than Mines, which beat out Princeton, Purdue and the University of Illinois at Urbana-Champaign on the list, among others. No other schools in Colorado were ranked in the top 10.
The rankings were based 24 data points, including graduation rates, average degree price, typical borrowing amounts and median earnings after graduation.
Mines frequently appears near the top in rankings, both for engineering programs and overall return on investment. Earlier this year, a report from Georgetown University ranked Mines at No. 2 for highest return-on-investment for low-income students. Mines was also ranked No. 17 for Best Online Master's in Engineering Management by U.S. News & World Report in January.
For more on how Mines stacks up against other universities, go to: https://www.mines.edu/about/rankings/.