Mines ranks No. 2 among all public universities for ROI for low-income students 
New report from Georgetown University recognizes colleges that are a good value for low-income students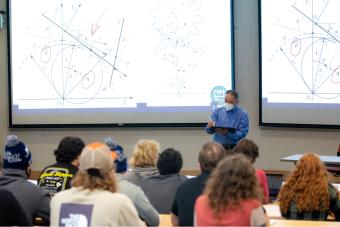 Colorado School of Mines has the second highest return-on-investment for low-income students among all public universities in the U.S., according to new rankings from Georgetown University. 
Only the Maine Maritime Academy ranked higher than Mines among public universities in the new report from the Center on Education and the Workforce, "The Colleges Where Low-Income Students Get the Highest ROI."  Mines' expected 40-year earnings for low-income students are listed as $2,067,000. 
"These rankings confirm something that we strongly believe in: Colorado School of Mines is place where you can change your future and your family's future," Mines President Paul. C. Johnson said. "A Mines education has always been and remains a transformational experience and best-in-class investment. This is a point of pride and it fuels our continued work to ensure a Mines degree is within reach of the best and brightest students from all backgrounds, including those of modest means."  
In addition to scholarships, Mines has recently formalized two new partnerships with Colorado community colleges to make the pathway to a Mines degree even more affordable for students. 
In August 2021, Mines signed an agreement with the Colorado Community College System to officially create a new Associate of Engineering Science (AES) degree that will ensure community college students from around the state can transfer as many credits as possible into a four-year program at Mines. Launching in Fall 2022, the Mines Academy at Red Rocks Community College will also provide qualified RRCC students with guaranteed admission into any four-year degree program at Mines upon completion of the two-year AES degree at RRCC. 
Released in late January, the new Georgetown rankings recognize colleges that are a good value for low-income students and look at multiple factors, giving additional weight to the percentage of low-income students who are enrolled, their graduation rates, and their long-term ROI. Topping the rankings were private universities Georgetown, Stanford and Harvard.  
For more on how Mines stacks up against other universities, go to https://www.mines.edu/about/rankings/.