Mines Academy to Launch at Red Rocks Community College
New transfer program includes guaranteed admission to any four-year degree program at Colorado School of Mines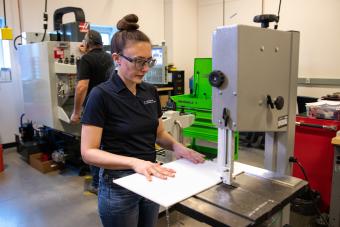 Colorado School of Mines and Red Rocks Community College (RRCC) are excited to announce today the launch of an innovative new partnership to support diverse nontraditional and traditional community college students' pursuit of a bachelor's degree at Colorado School of Mines.
Building on 20 years of articulated transfer agreements and shared curriculum development, the Mines Academy at Red Rocks will provide qualified RRCC students with guaranteed admission into any four-year degree program at Mines upon completion of the two-year Associate of Engineering Science degree, which provides an economical path to an engineering or science degree at Mines.
"We are excited about this progression in our longstanding partnership with Mines to meet the ever-growing need for more STEM graduates. Our students can now focus on studying and achieving academic success while at Red Rocks and can rest assured that they have a guaranteed pathway to a bachelor's program at Mines in engineering or science," said Dr. Michele Haney, President of RRCC.
"The new Mines Academy at Red Rocks has been designed to improve the success of students transferring from Red Rocks to Mines. It builds on our long partnership with Red Rocks and best practices we have learned in working with our students who come to Mines directly from high school. In brief, we want the Mines Academy student to be confident in their academic preparation, to know that their courses will transfer to Mines, and to feel that they are members of the Mines community,"  said Dr. Paul C. Johnson, president of Colorado School of Mines.  "This is truly a novel transfer pathway model that will help to broaden the STEM professional pipeline and continue to grow our longstanding partnership with Red Rocks Community College."
Students enrolled in the Mines Academy at Red Rocks will take high-quality math, science and engineering courses with small faculty-to-student ratios while also engaging early and often with Mines' student success services, including the Center for Academic Services and Advising, Financial Aid and the Mines Career Center.
In addition to completing coursework that closely aligns with Mines' core curriculum, students in the Mines Academy will also have the opportunity to begin developing their identity as Orediggers through access to Mines sporting events, E-Days and career presentations. Mines Academy students will have an Honors option through the Trefny Honors Program in STEM at RRCC, which can transfer into the McBride Honors Program at Mines.
"Red Rocks Community College is proud to partner with Colorado School of Mines to provide enriching and engaging educational opportunities to students interested in pursuing STEM pathways.  It is paramount we continue to develop access points that support students from diverse backgrounds, and Mines Academy at Red Rocks is an example of such options," said Dr. Beverly Clark III, Vice President of Academic Affairs at RRCC.
An important feature of the academy is the formation of a community of academic peers who can support each other throughout the program. At Red Rocks, students develop friendships and peer relationships through projects in the IDEA Lab, the campus makerspace, or in clubs such as Womxn in STEM, the ASME Student Chapter or NASA RockSat, and can take these supportive relationships with them to Mines. Academy students will also take a student success course taught by Mines to better introduce them to the campus and culture of Mines.
"Colorado School of Mines has an even stronger partnership with Red Rocks Community College with this new and innovative transfer pathway," said Dr. Richard C. Holz, provost of Colorado School of Mines. "Red Rocks already transfers more students to Mines than any other community college in the state, and through this new academy, that process will be even more integrated, student-centered and equitable. We are excited to enhance the long-standing relationship between our two institutions and hope this becomes the model for 2-year to 4-year pathways moving forward."
The Mines Academy will enroll students beginning in Spring 2022, with a start date of Fall 2022, and will take advantage of the new Associate of Engineering Science degree launched this fall. Mines and Red Rocks have set up a joint Oversight Committee to work on the launch, and Red Rocks plans to hire new faculty to support the growth in STEM classes.
The two institutions also plan to leverage scholarships from the Colorado Opportunity Scholarship Initiative to ensure that the Mines Academy is inclusive and affordable.
About Red Rocks Community College
Established in 1969, Red Rocks Community College delivers high-quality, affordable education programs leading to degrees or professional certificates. The college serves over 10,000 students per year online and at campus locations in Lakewood and Arvada.  www.rrcc.edu.
About Colorado School of Mines
Colorado School of Mines is a public university focused on science and engineering, dedicated to educating and inspiring students, advancing knowledge, and innovating to address the great challenges society faces today—particularly those related to earth, energy and the environment. Founded in 1874 with specialties in mining and metallurgy, Mines' scope and mission have expanded to meet the needs of industry and society, producing distinctive graduates and revolutionary innovations, and becoming a world leader in advancing sustainable use of the Earth's resources. More at mines.edu.