Mines professor wins Fulbright to research microbial interaction in sorghum
Nanette Boyle will conduct research and teach at the University of Amsterdam in The Netherlands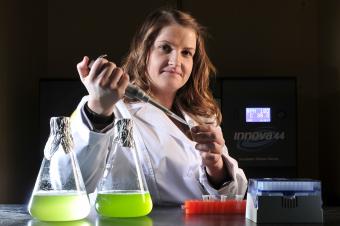 Nanette Boyle, associate professor of chemical and biological engineering at Colorado School of Mines, has won a Fulbright U.S. Scholar Program award to conduct research and teach at the University of Amsterdam in The Netherlands.
Boyle will join the research group of Harro Bouwmeester, chair of plant hormone biology at the Swammerdam Institute of Life Sciences, and teach a course on systems biology during the Spring 2022 semester.
"I am honored to have been selected for this highly competitive and prestigious award and am eager to start working on the project – I grew up on a farm and I decided to pursue a PhD because of the effect genetic engineering had on agricultural yields. I have always wanted to pursue research directions that relates back to agriculture," Boyle said.
The Fulbright Program is the U.S. government's flagship international educational exchange program and is supported by the people of the United States and partner countries around the world. It is celebrating its 75th anniversary in 2021.
An expert in synthetic biology, systems biology and metabolic engineering, Boyle's research focuses on genome engineering approaches to designing photosynthetic organisms capable of sustainably producing fuels, feedstocks and fine chemicals.
At the University of Amsterdam, she will collaborate with Bouwmeester and fellow researchers in his group to develop an advanced metabolic model of the microbial interactions in the rhizosphere of sorghum.
"This is an amazing opportunity because Professor Bouwmeester is a world-renowned expert in plant hormone signaling and his expertise is invaluable for developing a detailed computational model of the interactions between microbes in the soil and plant roots," Boyle said. "Just as microbes are now being recognized for their role in human health, they have a large impact on the productivity and health of crops and this project will help us to understand how these interactions can be engineered to optimize plant health and produce more using fewer resources."