Mines professor demystifying social responsibility in engineering
Anthropologist Jessica Smith is exploring how working engineers manage the social and public accountability dimensions of their careers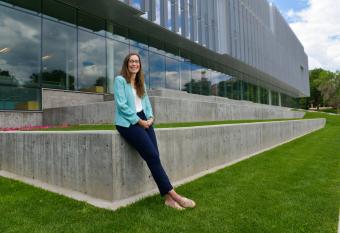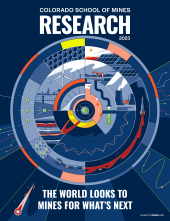 By Sarah Kuta, Special to Mines Research Magazine
Working engineers solve technical problems on a daily basis—that's a big part of why many choose to go into the field in the first place. But they also regularly grapple with sometimes less obvious questions that deal with the social, environmental, economic, cultural and ethical facets of their work.
As an anthropologist and professor of engineering, design, and society at Mines, Jessica Smith wanted to learn more about how engineers understood the public accountabilities of their profession. She spent years getting to know engineers in the field, learning about how they thought about their work in the broader context of their community and the planet. The result is Extracting Accountability: Engineers and Corporate Social Responsibility, a book published open access by The MIT Press in 2021 that synthesizes interviews with 75 anonymous engineers and executives, as well as her analysis of various historical documents and archival materials.
Smith shared more about the role of corporate responsibility in engineering.
What does social responsibility encompass? And why do engineers need to care about it?
Jessica Smith: One way to think about it is creating shared social, environmental and economic value — and that depends on adapting to the particular context. In places that have a history with the mining and oil and gas industries, many people want well-paying, safe jobs. In other places, there's more concern about environmental impact. There's also commonly a desire for transparency. People want to know what's happening, what decisions are being made and how they impact them. Is there going to be an expansion? When might this operation shutdown? What will that mean for us?
There is a clear need to go beyond just aspiring to a "social license to operate," in which people allow a company's activities to proceed. The most visionary engineers I met were thinking about how they and their companies could contribute to the well-being of the planet and the people who live next to their operations. Mining and oil and gas can be powerful engines for sustainable development if social and environmental wellbeing are embedded into core business practice.
What key themes emerged from your interviews and research?
Smith: For many engineers, the intersection of social and technical issues was the most exciting part of their careers. They wanted to be where there were challenges, as well as opportunities, for them to stretch beyond a narrow technical focus and to think about how they could make a positive difference in the world through their engineering practice. That is a very powerful position to be in. Even though there's often a formal community relations team, engineers actually have a lot of power to make decisions that ensure that these companies and their facilities are good neighbors.
What critical lessons should engineers working in industry keep in mind when adopting social responsibility practices into their decision-making processes?
Smith: No. 1 is that engineering is socio-technical by nature: Whatever decision you're making, whatever process you're designing, whatever thing that's going to be built, it's embedded in the world and is going to shape how people live and how people experience and think about your company. You have to think about your engineering in this wider context. It's never just technical. No. 2 is that integrating social concerns into engineering decision-making requires deep, contextual listening. This is not just listening for information — it's listening for how someone views the world and their position in that world. You're trying to understand not just what people think, but why they have a particular worldview.
What role do engineers play in the broader realm of social and corporate responsibility?
Smith: As one of my interviewees eloquently said, engineers are the ones who live out a corporation's values. He said that while it was his job as a CEO to set those values and express the mission and the vision of the company, the engineers are where the rubber meets the road. It's through their decisions that the company actually exists in the world. Social responsibility is crucial because you want the engineer who is drawing the line for where the road is going to be or the engineer who is setting up the shift schedule to be thinking about those broader values so that they are baked into the everyday business of the company.The more and more these industries evolve in terms of their public engagement, the more they see the intrinsic value of being responsible and being inclusive. It's the right thing for these industries to contribute to sustainable development — it's not just a box that should be checked.