Mines hosts international exchange on sustainable artisanal and small-scale mining
Universidad Nacional de Colombia, University of Texas at Arlington students and faculty spent week with Mines' Humanitarian Engineering Program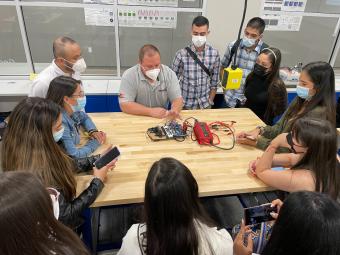 A delegation of students and faculty members from the Universidad Nacional de Colombia's School of Mines in Medellín and the University of Texas at Arlington recently spent a week at Colorado School of Mines, hosted by the Responsible Mining, Resilient Communities project. Funding for the visit and project came from a $4 million grant from the National Science Foundation's Partnerships in International Research and Education (PIRE) program and the Mines Humanitarian Engineering Program.
"We are very honored host the Universidad Nacional de Colombia students and faculty at Mines, as they have spent the past four years generously hosting our faculty and students at our research sites in and around Medellín," said Jessica Smith, director of the Humanitarian Engineering and Science graduate program. "None of our research and undergraduate design projects in Colombia would have been possible without the support of Professor Oscar Restrepo and his students."
The School of Mines at the Universidad Nacional (UNAL) is the oldest and most respected program of its kind in Colombia, and they were recently ranked as the No. 1 undergraduate program in the country.
The exchange was a unique opportunity for the Colombian engineering students – ten women and two men, said Restrepo, professor in the Department of Materials and Minerals at the UNAL School of Mines. "A very important aspect was to have direct knowledge of different initiatives of interaction between engineers and communities and to learn about the methodologies that have been successfully implemented."
A surprise bonus? Being able to experience snow for the first time during one of Colorado's infamous late spring storms.
Throughout the week, the students from Colombia and Texas were joined by faculty and students from Mines' Humanitarian Engineering and Science program. They met with Mines senior leadership from the Office of Global Initiatives, Office of Research & Technology Transfer, and Center for Sustainable Mining. They visited cutting-edge labs, including the GeoMakerSpace, Center for Space Resources and the Earth Mechanics Institute and spent a day touring the Climax Mill and National Mining Museum in Leadville. They participated in workshops led by leaders in community engagement at Corps Africa; in creative capacity building at MIT-D Lab; and in social innovation at Escuela de Innovación Social in Colombia, created and implemented in Colombia by Uniminuto (Universidad Minuto de Dios). They also had multiple opportunities to share their research with each other.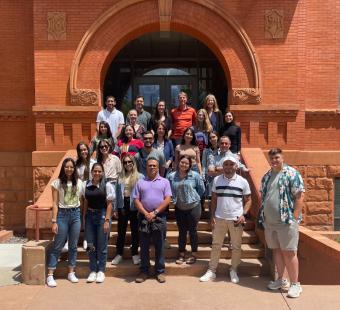 "The exchange focused on key themes that have defined our Humanitarian Engineering program at Mines: that engineering is never purely technical but always a sociotechnical practice, that to properly serve vulnerable communities engineers need to take seriously the contributions from the social sciences, and that for effective intercultural team work, there is no substitute for respectful, in-person, and honest exchange," said Juan Lucena, director of the Humanitarian Engineering undergraduate program. "The Colombian students felt so welcomed by our HES students and faculty to the point that a number of them said, 'At Mines I feel at home.'"
The week culminated with a campus-wide symposium celebrating Mines' substantial research on artisanal and small-scale mining (ASM). While ASM provides a livelihood for millions of people around the world, it also presents serious environmental and health challenges. About 20 participants from multiple Mines departments and programs shared their research with a large crowd who braved some late spring snow to attend.
The overall goals of the Responsible Mining, Resilient Communities project are to understand the interlinked social, environmental and technological dynamics of ASM and to train U.S. engineering students to work directly with mining communities to make ASM safer and more sustainable for them and the environment. UNAL is the Colombia country lead for the PIRE project, and other collaborators include Universidad Minuto de Dios (Colombia), Pontificia Universidad Católica del Perú, United States Air Force Academy, University of Texas at Arlington and CU-Boulder.