Mines Global Energy Future Initiative brings innovative solutions to the table
$32.6M CarbonSAFE Eos project just one way GEFI framework, collaborative mindset is having big impact at Mines
Solving our society's greatest energy challenges requires collaboration, but creating effective partnerships that address many facets of a problem is tricky. Colorado School of Mines has expertise across the gamut of disciplines required to tackle these problems and a new framework for the interdisciplinary research needed to spark innovation and attract external partners.
Mines has put together a powerhouse list of energy-related experts and our connections to industry and other partners to build a structure for unprecedented collaboration. It's called the Global Energy Future Initiative, or GEFI.
"What GEFI has done on campus is open dialogue and connections between our teams internally and open doors for partnerships with industry and government," said John Bradford, vice president for global initiatives. "Our departments are individually at the top of their fields, but they often have one piece of the puzzle. GEFI has given us a framework to put together the pieces and bring innovative solutions to the table."
The GEFI framework and collaborative mindset are having big impacts at Mines, leading to major grants, collaborative research, student innovation and industry support.
$32.6 million CarbonSAFE grant
On May 19, Mines, Carbon America and Los Alamos National Laboratory announced they were awarded a $32.6 million grant from the U.S. Department of Energy's Carbon Storage Assurance Facility Enterprise (CarbonSAFE) Initiative. They will use the award to advance a regional carbon storage hub in the Pueblo, Colorado area that will reduce industrial emissions from cement, hydrogen and power plant operations and create a model for responsible, community-centric carbon capture and storage (CCS).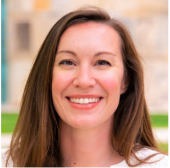 The project was awarded, in large part, because of Mines' expertise in CCS and environmental, social and governance (ESG) spaces. Professor Jessica Smith's expertise in social acceptance and the energy transition was key to getting the award, which required a community benefits plan.
Manika Prasad, director of the Mines Carbon Capture, Utilization and Storage Innovation Center, will lead the project with Carbon America senior geologist Chris Cassle.
The project will also create a model for responsible CCS to support sustainable economic and social goals. Project activities will be grounded in two-way communication with local stakeholders. Community benefits plans are critical for ensuring that projects benefit a wide array of stakeholders and garner social acceptance.
"This grant represents a significant milestone in our commitment to mitigating climate change and developing sustainable energy solutions," said Brent Lewis, CEO of Carbon America. "By collaborating with the exceptional researchers at Colorado School of Mines and Los Alamos National Lab, we aim to unlock new possibilities for carbon capture and storage, helping to build a cleaner and more resilient future."
New hydrogen energy research
Another promising interdisciplinary project with ties to the GEFI framework is exploring whether naturally occurring hydrogen in the Earth's crust can act as a clean energy source.
U.S. Geological Survey research scientist Geoffrey Ellis—also affiliated Mines faculty in geology and geological engineering—leads the project with co-investigators Yaoguo Li and Mengli Zhang from Geophysics.
The project is at the forefront of energy transition research. Geologic hydrogen is an absolutely clean form of energy that can be added to the existing energy mix, especially using technologies for transporting and using hydrogen being developed at Mines. This academic-government partnership will be supported by eight industry partners, with administration funded by a grant from the National Science Foundation Industry-University Cooperative Research Centers.
CarbonDown CO2 emissions project
CarbonDown, a team of Mines students and alumni, have developed a revolutionary technique to capture CO2 emissions with greater efficiency and at a lower cost. Their initial invention answered a problem submitted by a major oil and gas company during the 2022 GEFI Innov8x Challenge — they took second place and won $7,500. CarbonDown has continued work on this proprietary downhole technology, which replaces traditional, expensive and potentially environmentally costly CO2 injection techniques.
BHP: Founding GEFI partner
Global mining giant BHP, based in Melbourne, Australia, is a GEFI founding partner, signaling growing industry support for the initiative. BHP will sponsor research projects and provide industry expertise to drive innovative sustainable energy solutions. In exchange for their expertise, BHP will gain access to cutting-edge research happening at Mines that's critical to building a sustainable future for the mining industry.
"As decarbonization, or the pursuit of net zero greenhouse gas emissions, draws sharper focus from businesses and governments worldwide, the mining industry remains central to that challenge," said Nima Brooks, BHP head of strategy and innovation. "The Global Energy Future Initiative is a terrific project that is aligned with BHP's focus on innovation, exploration, and technology to help solve this challenge."
Partners from industry, government, civil society and academia are invited to join GEFI as we bring together global energy thought leaders and world-class Mines faculty through research, education, workshops, seminars and outreach. 
Learn more at mines.edu/global-energy-future or contact the GEFI associate director Gregory Clough at gclough@mines.edu.