GEFI Innov8x Challenge showcases Mines student ideas on the future of energy
Teams competed to win prize money to fund their groundbreaking projects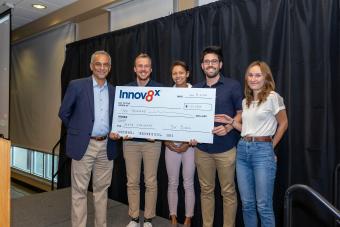 An efficient ammonia fuel reformer for the decarbonization of heavy industry was the winner of the first-ever Mines Global Energy Future Initiative Innov8x Challenge.
Sponsored by Oxy and ConocoPhillips, the innovation competition challenged Mines students to pitch solutions Sept. 7 to the most pressing challenges and problems facing the energy industry today.  The top three teams won funding to further pursue their innovative ideas.
First place – and $10,000 – went to Green Ammonia Energy, a team comprised of students who work in Professor Colin Wolden's lab in the Chemical and Biological Engineering Department.
Their proposal was based on catalytic membrane reactors, which enable on-site generation of hydrogen or ammonia fuel that can be used as a drop-in replacement for natural gas. The team said they hope their technology can help achieve on-demand generation of 100 percent green power or process heat and complete elimination of carbon emissions.
"Our technology has been greatly successful in the lab-scale and we can see much potential for its industrial use across many hard-to-abate sectors," said team member Rok Sitar, a PhD student in chemical and biological engineering. "As such, we are planning to scale up our technology and will use the Innov8X Challenge prize to fund these endeavors and connect with industrial partners that can help us achieve our goals."
Members of Team Green Ammonia Energy include Sitar; Elizabeth Golonski, a master's student in chemical and biological engineering; Nolan Kelley, a master's student in chemical and biological engineering; Isabella Roszell, a sophomore majoring in chemical and biological engineering, and Wolden.
Second place – and $7,500 – went to Team UREP, which developed a novel design for significantly reducing carbon emissions in oil and gas operations by capturing carbon dioxide inside wells. By eliminating the need for a carbon dioxide extraction plant, surface compressors and surface carbon dioxide storage, their design would reduce operating expenses.
Members of Team UREP include Arkhat Kalbekov, a master's student in petroleum engineering, and Meruyert Makhatova and Gizem Yildrimm, both PhD students in petroleum engineering.
Third place – and $5,000 – went to senior mechanical engineering students Joe Eriqat and Jonathan Pearce. Their project focused on detecting methane leaks on oil and gas extraction pads.
The team worked with ConocoPhilips engineers to come up with a mesh of vibrational sensors that use a Support Vector Machine Learning model to determine when components are leaking methane. Research on other vibrational leak detection methods has shown this solution could provide improved accuracy and detection rate and even determine the size of leaks, a feature not possible with current methods.
"We passed our research on to the ConocoPhilips engineers to be developed further, but we're still in contact with them and can't wait to see the impact this solution has in the field," Eriqat said.