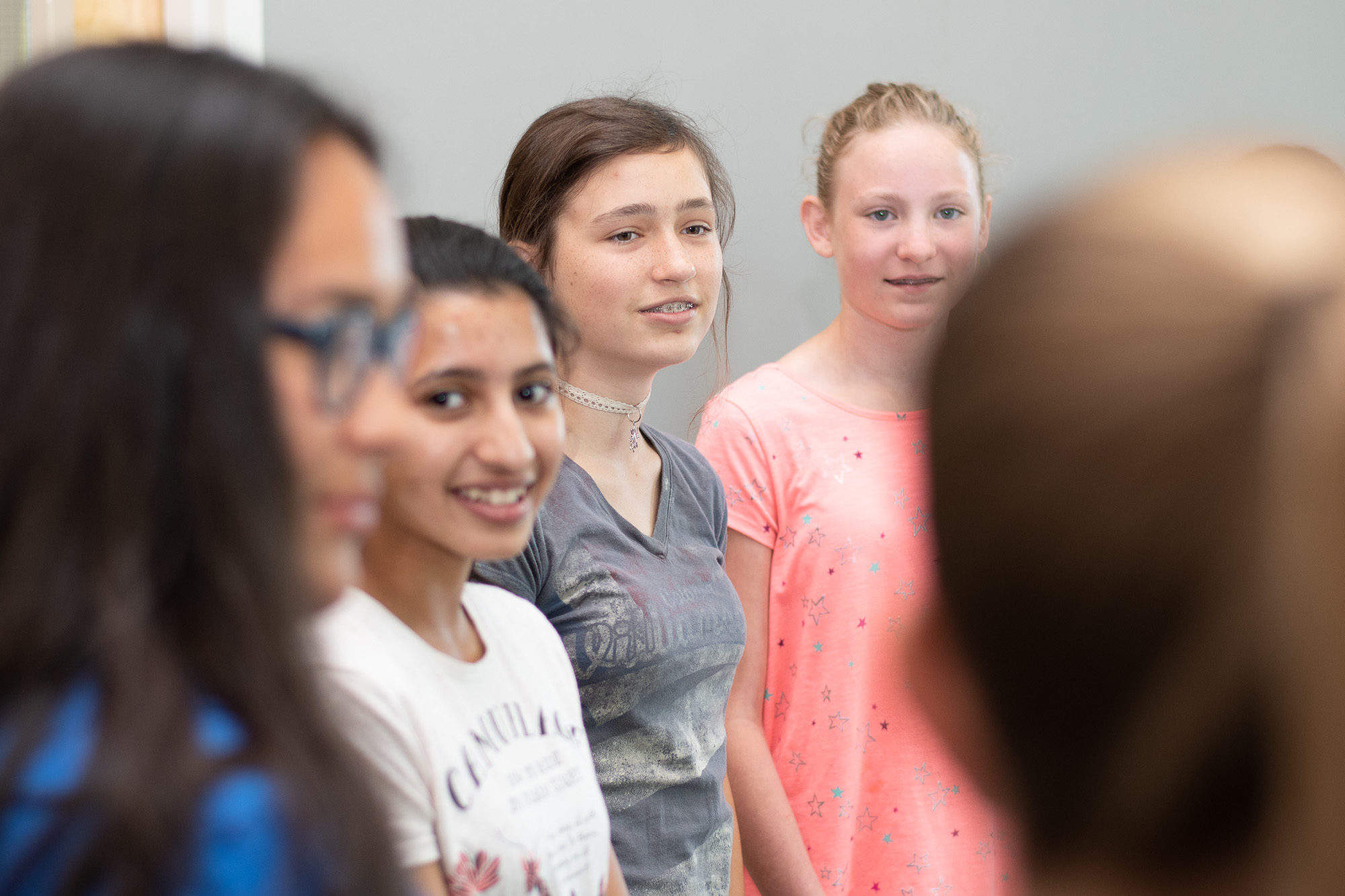 Approximately 40 Denver-area middle school girls began a free, weeklong camp about science, technology, engineering and math (STEM) today, participating in the first-ever iteration of the GE Girls program at Colorado School of Mines.
GE Girls is a program designed to spark girls' interest and enthusiasm in STEM fields through fun, hands-on activities led by role models in these fields. The first program started in 2011 in partnership with MIT and has since grown to over 20 programs. This is the first year that Mines has partnered with GE to offer the program in Golden. Additional information can be found on the program website.
"Research has shown girls have interest in STEM but often turn away from it as they get older for a variety of reasons," said Jill Berg, a senior engineer at Baker Hughes, a GE company. "Our GE Girls program makes a direct connection to these talented young people and we will continue to reach out and engage with them to nurture their interests and skills. The more they see women in STEM roles and see how interesting and impactful the work is, the better opportunities they will have to go to college or work in these areas. We want to empower girls to dream big - always - and to know no limits."
During the week, girls will learn about robotics, chemistry, materials, design and more through a variety of fun activities including building bubble-powered rockets, isolating their own DNA in the lab and pouring metal mementos in the Mines foundry. Other, nontechnical skills, such as team building, communications, collaboration, networking and problem-solving, are also an integral part of the GE Girls experience.  
Students were recommended for the camp by teachers at participating schools. The seventh- and eighth-graders all attend Alameda International Jr./Sr. High School and D'Evelyn Junior/Senior High School in Jefferson County.
Leading the camp are Berg, Bioprocess Solutions Architect Ellen Johnson of GE Healthcare and two Mines employees, Chemistry Associate Professor Jenifer Shafer and Annette Pilkington, director of the Women in Science, Engineering and Mathematics (WISEM) Program.
"Colorado School of Mines is committed to increasing the number of women who aspire to be future engineers, scientists and business leaders," Pilkington said. "GE Girls Camp is a great opportunity for those girls who have shown interest in science to participate in hands-on scientific exploration and, just as important, to work side by side with role models - the women scientists and engineers making a difference in industry, academics and research today."
As part of the camp experience, girls will also go on a field trip to an office of Baker Hughes, a GE Company, in Longmont, to learn more about energy and try their hands at building wind turbines. 
"GE Girls Camp is all about mentoring and fun," said Carly Blaes, controls engineer at Baker Hughes and a Mines alumna. "While touring two GE facilities, the girls will get to meet many women who work in our offices and manufacturing facilities every day. We want to show them that STEM concepts like programming, designing machinery and producing electricity can be fun, and also that there are women in the industry right now who want to support them on their journey."
GE Corporation continues to be a leader in developing diverse talent 20 years after it first created its Women's Network. The company has committed to putting 20,000 women in technical roles by 2020, with assistance from programs such as GE Girls. 
Graduates of the GE Girls program have opportunities to pursue college scholarships in cooperation with the GE Women's Network and Society of Women Engineers (SWE). More information can be found at the SWE scholarship website.
CONTACT
Emilie Rusch, Public Information Specialist, Communications and Marketing | 303-273-3361 | erusch@mines.edu
Mark Ramirez, Managing Editor, Communications and Marketing | 303-273-3088 | ramirez@mines.edu