Mines freshman wins Colorado Governor's Citizenship Medal for community building efforts
Fabian Jimenez is one of eight state leaders being recognized at a ceremony later this year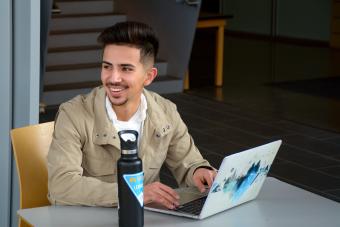 Mines freshman Fabian Jimenez wants to change the world. It's a goal he's been working toward for years, even before coming to Mines.
Throughout his time in high school in his native Leadville, Colorado, Jimenez led youth voter registration drives. When the COVID-19 pandemic shut down in-person activities, he moved efforts online, making videos to connect with his community virtually. Jimenez's efforts were successful, and there was a noted increase in youth voter turnout in the 2020 election.
For making a positive impact on his community, Jimenez has been recognized with the 2021 Colorado Governor's Citizenship Medal in the Emerging Community Leader category.
Modeled after the Presidential Medal of Honor, the highest civilian award in the U.S., the medals will be presented to eight recipients by Colorado Governor Jared Polis and non-profit organization CiviCO at a ceremony now set for April 2022.
Jimenez is among prestigious company—this year's other medal winners include a past mayor of Denver, a former university president and more Colorado leaders decades older than him.
Now a civil engineering student at Mines, Jimenez hasn't slowed down his drive to help others and has continued community building efforts on campus.
"Moving forward at Mines, I've felt a passion for wanting to improve some of the diversity on campus," he said, and he's gotten involved in organizations like the Society of Hispanic Professional Engineers and Kickstart, a newer group working on improving discussion around race relations in the United States.
"The relationships people build create a sense of community," Jimenez said.
When it came to continuing his education, his family set a positive example that he looked up to, Jimenez said. His mother graduated with a degree from Regis University while she was pregnant, and his older brother recently graduated from Metropolitan State University of Denver. For Jimenez, Mines was always at the top of the list.
"I enrolled in some earth sciences courses while in high school, and that led me to consider Mines for my future," he said. "I'm from Colorado, so I know the great reputation Mines has for engineering. It's the best university in the state."
His Mines dreams were made possible by winning a Boettcher Foundation Scholarship, a merit-based award that covers full tuition and fees for outstanding students who are attending a Colorado university.
For his future career, Jimenez hopes to build on his interest in civil engineering and maybe learn more about water sustainability and urban design. His career aspirations are not quite clear yet – he's still in his first year at Mines – but he hopes he can contribute to building better cities that positively impact residents' daily lives.
And while winning the Colorado Governor's Citizenship Medal is an incredible honor, Jimenez stressed that he hopes others don't lose sight of the fact that all community building work is a team effort. The many other people working to improve their communities every day deserve to be appreciated, as well, he said.
"Even though I'm the one getting this award, I'd really like it to stand for not just me, but everyone who has the same dreams and aspirations as I do," Jimenez said. "It's important to recognize that there are a lot of people out there doing the work and I don't want them to be forgotten."