On Wednesday, September 14, the White House will host a summit on Computer Science for All, marking progress on expanding computer science (CS) education and celebrating new commitments in support of the effort. Colorado School of Mines is a key member of the initiative and will be doubling its outreach to CS educators in 2017.
Mines has formed a strong partnership with the Front Range Computer Science Teachers' Association (CSTA) to improve K-12 computer science education in Colorado. Under this new initiative, Mines has committed to recruit, engage and train over 100 Colorado teachers in computer science content and pedagogy during the next year, doubling last year's outreach. Mines will also offer ongoing support to all new computer science teachers in the state who request support.
Mines and Front Range CSTA will continue working together to create a thriving community of Colorado computer science teachers in order to offer both mutual support and the opportunity to share curriculum and best practices. Mines also commits to helping prepare over 300 K-12 educators from around the country to teach CS courses by hosting CSPdWeek next summer.
These commitments build on Mines efforts to improve CS education in Colorado and the country. In 2015, the Division of Computer Science created C-START: Colorado – STrategic Approach to Rally Teachers, which aims to improve the skills of existing computer science teachers in Colorado. The division also ran two coding camps for middle school students and hosted the 2016 CSPdWeek.
Computer Science for All (CSforAll) is a White House initiative to empower all American students from kindergarten through high school to learn computer science and be equipped with the computational thinking skills they need to be creators in the digital economy, not just consumers, and to be active citizens in our technology-driven world. Our economy is rapidly shifting, and both educators and business leaders are increasingly recognizing that computer science has become a basic skill necessary for economic opportunity and social mobility.
For more on the National Science Foundation's "Computer Science for All" (CSforAll) program, visit www.nsf.gov/news/special_reports/csed/csforall.jsp
To view the White House summit via livestream, visit www.whitehouse.gov/live from 1–3 p.m. on September 14.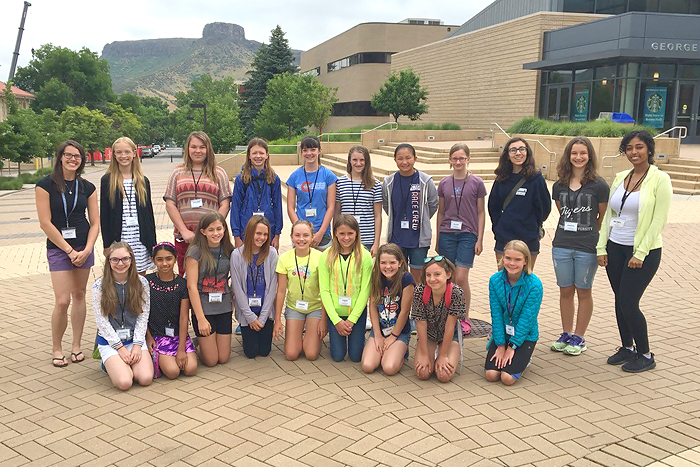 Middle school participants and Mines CS student leaders at the 2016 Exploring Tech Camp.
Contact:
Deirdre Keating, Communications Manager, College of Engineering & Computational Sciences | 303-384-2358 | dkeating@mines.edu
Anica Wong, Communications Specialist, CSM Foundation | 303-273-3904 | acwong@mines.edu