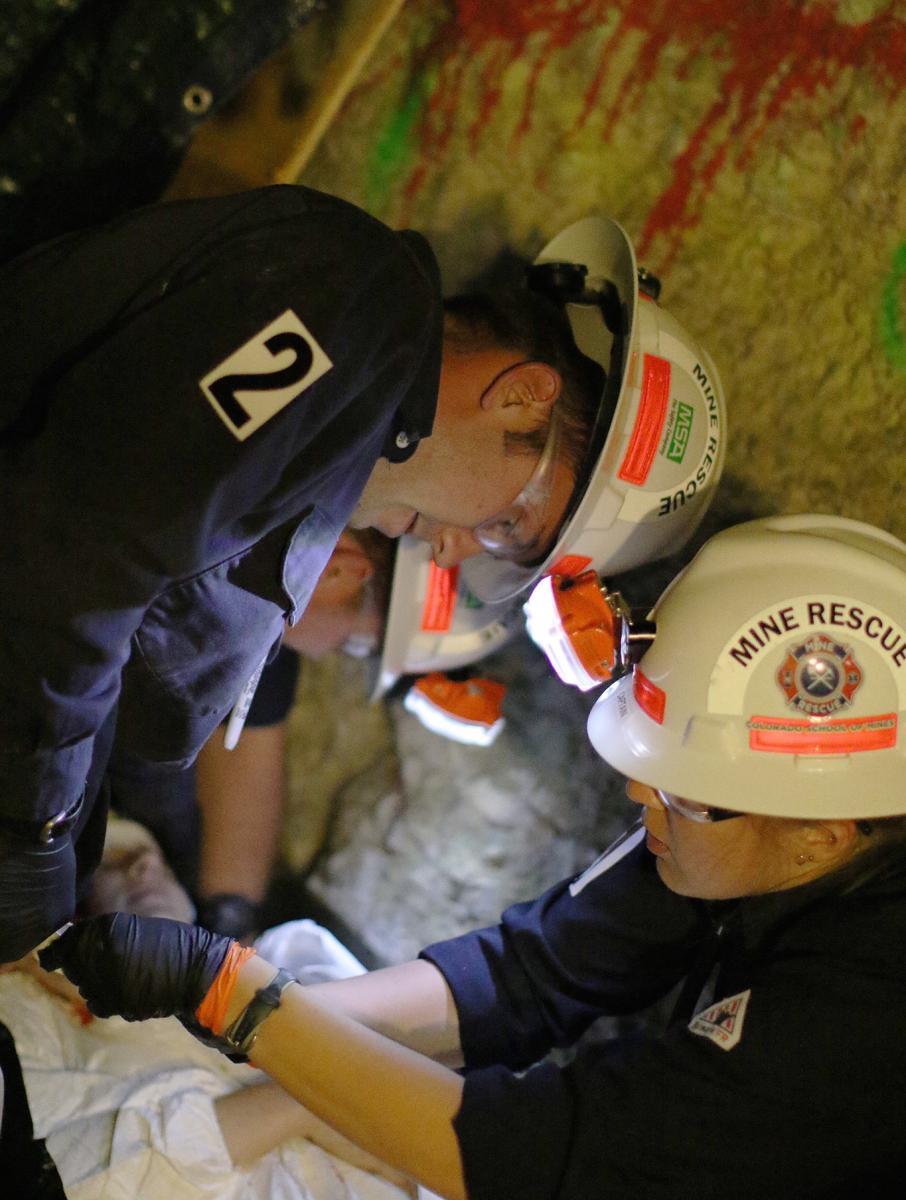 Mines students perform a mine rescue training exercise. 
Photo courtesy of Colorado School of Mines Mine Rescue Team.
The Colorado School of Mines
Energy, Mining and Construction Industry Safety program
has partnered with the Rocky Mountain Education Center at Red Rocks Community College to enhance the effectiveness and broaden the scope of their current training programs.
The partnership will allow the institutions to offer joint certificate training programs for required Occupational Safety and Health Administration standards and will open the door to training in other standards as well, such as those of the National Fire Protection Association. The agreement also expands the traditional mining focus of current training programs to other industries such as oil and gas and construction.  
"This represents a significant step forward in the evolution of the EMCIS program here at Mines," said Kirk H. McDaniel, director of business development for the program. "This collaborative partnership with RRCC RMEC enhances both of our programs, and also fits well with other relationships we are developing—such as with Fire Departments for underground technical rescuer qualifications, and with national labor unions for tunnel training." 
Training programs will include both in-classroom training as well as hands-on experience at facilities such as the Edgar Experimental Mine in Idaho Springs and the West Metro Fire Academy in Lakewood.
"Our partnership with Mines' EMCIS program offers the expansion of our OSHA-authorized Education Center courses to include best-practices instruction," said Joan W. Smith, dean and executive director of RMEC.  
Smith explained that this implementation of "best practices" is only made possible by the experiential learning techniques that the EMCIS program will bring to the joint course offerings.
Participants in the joint courses will earn certificates from EMCIS as well as OSHA certification from the Rocky Mountain Education Center.
Contact:
Agata Bogucka, Communications Manager, College of Earth Resource Sciences & Engineering | 303-384-2657 |
abogucka@mines.edu
Mark Ramirez, Communications Manager, College of Applied Science & Engineering | 303-384-2622 | ramirez@mines.edu
p.p1 {margin: 0.0px 0.0px 0.0px 0.0px; font: 12.0px Helvetica}