Mineral and Energy Economics PhD graduate wins Rath Award at Spring 2021 Graduate Commencement
During the May 13 outdoor ceremony, Mines awarded a total of 28 doctoral and 273 master's degrees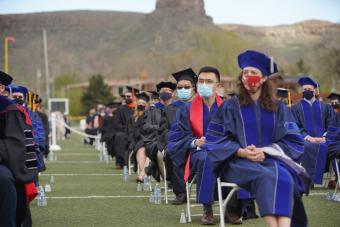 Emilio Castillo, PhD in Mineral and Energy Economics, is the winner of the Spring 2021 Dr. Bhakta Rath and Sushama Rath Research Award.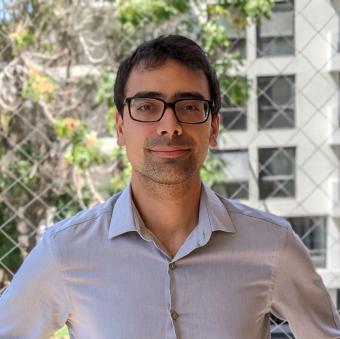 The honor, which recognizes the Mines doctoral graduate whose thesis demonstrates the greatest potential for societal impact, was presented during Spring 2021 Graduate Commencement on Thursday, May 13. During the in-person outdoor ceremony, Mines awarded a total of 28 doctoral and 273 master's degrees to May graduates.
Mines will hold three more in-person commencement ceremonies over the next two days. Spring 2021 Undergraduate Commencement will be at 9 a.m. and 1 p.m. Friday, with a special celebration for Class of 2020 graduates at 10 a.m. Saturday. All of the ceremonies will follow the latest COVID-19 health and safety protocols for graduations.
Castillo's dissertation, "Applied Mineral Economics: An Analysis on Depletion, Taxation and Exploration," focused on three topics related to mineral resources: resource depletion and the long-run availability of copper; mineral taxation and how public policy influences investment in mineral exploration; and the discovery of previously unknown mineral deposits.
"Emilio Castillo's dissertation consists of three papers in applied mineral economics, each focusing on a topic of importance to our understanding of mineral resources, especially those resources that will experience significant demand growth as we move to decarbonize the energy economy," said Rod Eggert, Castillo's PhD adviser and Viola Vestal Coulter Chair of Mineral Economics. "Emilio is contributing already to our understanding of long-run mineral availability and how the quality of institutions and public policy influence investments in mineral exploration – and he is poised to contribute even more to the field in the future."
ADDITIONAL GRADUATE AWARDS
Emeritus Faculty Exemplary Graduate Student: Chosen by emeritus faculty in the Department of Mechanical Engineering, this award is presented to an exceptional graduate student. Oluwaseun (Seun) Ogunmodede
The Mendenhall Prize is awarded by the Department of Geophysics to the department's outstanding graduate student. Maitham Alabbad and Dana Sirota
Outstanding Graduating Master's Student Award in Computer Science: Chosen by faculty in the Department of Computer Science, this award is presented to an exceptional graduate student. Kevin Barnard
For more information about Spring 2021 Commencement at Colorado School of Mines, go to commencement.mines.edu.