Michael Byckovski: "I am fully confident my time here will prepare me to be the best possible engineer in a professional setting."
Austin, Texas
Mechanical Engineering Student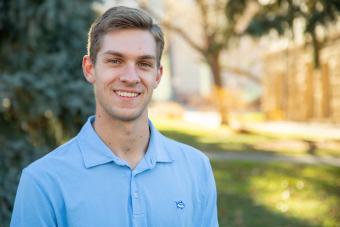 Why did you choose to come to Mines? What have you enjoyed most about being here?
First and foremost, I believe Mines has tremendous value as an educational institution. I am fully confident that both the quality and variety of coursework I complete during my time here will prepare me to be the best possible engineer in a professional setting. I also enjoy living in Golden, Colorado. I am from Austin, Texas so Golden's small-town feel and cold weather has been new but enjoyable.
Tell us about something you're working on right now that you find exciting, fulfilling or challenging.
I'm designing and building a weight scale in my mechanical engineering lab right now. I enjoy these class projects because it allows us to see a design through to completion and operation.
Have you done an internship or co-op or been in a professional job while at Mines? Tell us who you worked for and what you were doing. What stands out?
I got the opportunity to co-op with Ball Corporation's Manufacturing division during the spring semester of 2019. I worked in container engineering at the corporate office. Working full-time for six months allowed me to get involved with many different departments and projects across multiple manufacturing facilities. The single biggest thing that stood out while working with experienced engineers in my department were soft skills. I enjoyed working with a few particular engineers more so than others just because they were more personable. Being a team player and effective communicator makes an engineer much more marketable.
What communities, groups or organizations—on- and off-campus—are important to you and why?
Outside of academics, I am a member of the Men's Club soccer team at Mines. I have enjoyed playing soccer at a competitive level since I was little and I'm thankful the Mines Club Sports Council sponsors a team every year.
What are your plans for the future? What's your dream job?
In the foreseeable future, I plan on enrolling in the Engineering Management Master's program here at Mines. Being able to support and manage engineers to their full potential is a dream career for me.
What would you tell someone interested in joining your academic program or Mines in general?
If you are disciplined and do not procrastinate, the "scary" workload and time commitment at Mines is completely manageable. I also believe a degree in Mechanical Engineering is the best undergraduate option. The variety of coursework will make you a more well-rounded engineer.
What's your favorite thing to do outside of class and coursework? How do you unwind, manage stress, find fulfillment, etc.?
Outside of class, I'll take day trips into the mountains or into Denver. I also enjoy playing soccer in my free time to unwind and distract from schoolwork.
Tell us something about you that most people would be surprised to learn?
I read one book a month for pleasure outside of school.