Marv Kay Celebration of Life to be held May 15 at Marv Kay Stadium
Kay, the iconic Colorado School of Mines and City of Golden leader, passed away April 19 at age 84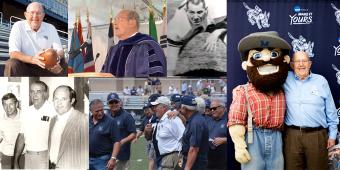 A public celebration of life for Marv Kay, the longtime Colorado School of Mines and City of Golden leader often called the "greatest Oredigger of all time," will be held at 10 a.m. Monday, May 15, 2023, at the football stadium that bears Kay's name on the Mines campus. 
The public is invited to attend the ceremony, which will include the retirement of the Mines jersey number that Kay wore during his career as an All-American lineman for the Orediggers. Attendees are asked to wear their Mines gear.  
Inducted into the Colorado Sports Hall of Fame in 2019, Kay spent a lifetime as a student-athlete, coach, administrator, professor and fundraiser at Mines. His influence and leadership reached beyond campus to the greater community as well. He served as the mayor of Golden from 1988 to 1996 and as a member of the Golden City Council from 1986 to 1998. In 1986, Kay joined the Golden Civic Foundation Board and he continued to serve, as board president (1987 and 2003), board member and advisor, until his death. Kay died on April 19, 2023, at age 84. 
The Celebration of Life for Marv Kay will be live streamed on the Mines YouTube channel for those who cannot attend in person. Share your memories or a message for Marv's family here. 
The family has asked that in lieu of flowers, donations be made to the Marv Kay Champions Fund or the Golden Civic Foundation.  
Marv Kay Celebration of Life 
When: Monday, May 15, 2023 
9 a.m. Open House  
10 a.m. Celebration of Life, with reception to follow 
Where: Marv Kay Stadium 
Colorado School of Mines, 1250 12th St., Golden, CO 80401 
Parking: Public parking is available in Mines Lot K, McNeil Hall Parking Garage and Lot Q, with parking fees waived all day (campus map). Lot L is reserved for family members only.