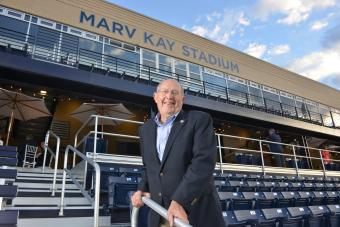 Marv Kay, the iconic Colorado School of Mines and City of Golden leader, died on April 19, 2023, at age 84. His generosity, leadership and influence spanned generations of athletics, university and civic community members.  
A longtime Mines coach and administrator, Kay was inducted into the Colorado Sports Hall of Fame in 2019. In honor of his legacy, April 11, 2019, was proclaimed Marv Kay Day in the State of Colorado, in Golden and at Mines. Maple Plaza, the central pedestrian thoroughfare on the Mines campus, was also renamed Marv Kay Way. 
 Perhaps the most enduring symbol of Kay's influence is the Mines football stadium that was named in his honor when it opened in 2015. He was also famous for being the inspiration for the Mines mascot, Marvin the Miner.   
Kay—a member of the Mines and Rocky Mountain Athletic Conference Athletic Halls of Fame—was one of the most influential individuals in Mines Athletics during his more than 40-year career. He spent a lifetime as a student-athlete, coach, administrator, professor and fundraiser at Mines. He shared his lifetime of sage wisdom as the keynote speaker at Mines' spring commencement in 2016. 
"Rarely do we see people like Coach Kay who have committed their entire life to one school and the surrounding community," said Mines Athletics Director David Hansburg. "Marv Kay is clearly the greatest Oredigger of all time, and his legacy will live on forever in the hearts and minds of his countless friends."  
Kay was born across the street from the Mines president's house when his father was a junior at Mines, then grew up playing high school sports among the mining towns on Colorado's Western Slope. The man who would devote most of his life to Mines never saw himself headed anywhere else to continue his education.   
  
As a student-athlete at Mines, Kay lettered in football and wrestling and was an All-American lineman in football. He was also president of his junior class, the fraternity Sigma Phi Epsilon and was named Mr. Engineer during E-Days, Mines' annual spring celebration.  
After graduating with a degree in engineering in 1963, Kay served in the U.S. Army Corps of Engineers for two years before returning to Mines to coach swimming and football. He became the head football coach in 1969. Over the next 26 years, he won a then-school-record 84 games (he still ranks second), was the RMAC Coach of the Year in 1975 and 1979 and coached 13 All-Americans and 50 All-Conference players. After his coaching days, he served as Mines athletic director for nine years. In 2016, he was inducted into the ROTC Hall of Fame.  
Kay's influence and leadership reached beyond campus to the greater community. He served as the mayor of Golden from 1988 to 1996, as a member of the Golden City Council from 1986 to 1998 and as president of the Golden Chamber of Commerce in 1983.  The Chamber recognized him as Outstanding Citizen in 1988 and 1993. Kay was a founder of Leadership Golden in 1984. He joined the Golden Civic Foundation Board in 1986 and served until his death. He was the board's president in 1987 and 2003. 
Kay's last professional chapter was as a development consultant for the Colorado School of Mines Foundation, which he joined in 2010. Because of the close relationships he built over a lifetime, Kay was a master at matching alumni passions with important causes for the university in athletics and beyond.  
His beloved wife of 55 years, Diane, passed away on March 15, 2023. He is survived by his daughters, Chandra (Wes) Polk and Kendra (Alex) Sund of Golden; grandchildren Casey, Kayden and Kendal; great grandson Everett; and siblings Bill Kay, Molly Harrison, Betsy Scally and Kathy Lipsky.  
The Kay family will hold a private memorial and asks that their privacy is respected. At a future date, there will be a public memorial at Marv Kay Stadium to honor his life and legacy.