Managing the future of water — in the West and beyond
Mines alumni and researchers are at the forefront of U.S. water management challenges, working on mitigation, water reuse, new water systems, alternative renewable energy and more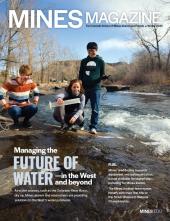 By Jen A. Miller, Special to Mines Magazine
The Colorado River is the lifeblood of the southwestern U.S., with nearly 40 million Americans in Arizona, California, Colorado, Nevada, New Mexico, Utah and Wyoming relying on the Colorado River System for drinking water and to support farming and recreation. However, the Colorado River Basin water supply is dwindling, leading to water management challenges and an uncertain future of water in the West. 
This isn't just a water problem for millions of people, but a power problem, too. Hydropower generated here and elsewhere is an important player in the country's power needs. 
Mines alumni and researchers are at the forefront of working with water in this new reality, whether that's through mitigation, water reuse, new water systems or alternative renewable energy systems. 
"We've got supply problems and demand problems, and the fundamental fact is that those are not matching up very well," said Adrienne Marshall, assistant professor of geology and geological engineering at Mines.
It's not exactly a new issue either, she added. The Colorado River Compact, an agreement among seven states that allocated river resources between the upper and lower basin states, was first signed—in 1922. A century later, things have gotten worse, Marshall said, due to increased demand coupled with historic drought, made worse by climate change. 
While local governments continue to squabble on how to divvy up water resources as they currently are and will be, scientists continue to work on solutions.
Water resources in the West are drying up
Climate change has shifted where water lives and falls. While some places, such as western Washington State, are getting more water each year, most of the West is parched.
The Colorado River Basin is experiencing its worst drought in 1,800 years, according to the Bureau of Reclamation. With lower forecasted amounts of snowfall each year and smaller snowpacks, meaning less water running downstream in the spring to replenish the basin, it's not a problem that's expected to resolve itself anytime soon.
For example, Lake Powell and Lake Mead, the two largest reservoirs in the U.S. and part of the Colorado River watershed, are dangerously close to reaching "dead status," according to the United Nations Environment Program, meaning there's not enough water to flow and produce hydropower. And the energy generated at Arizona's Glen Canyon Dam provides water and electricity to agriculture and tens of millions of people but could drop below power generation levels as soon as June 2023.
"There's less water than the system has been built to depend on," said Ryan Gilliom MS '17, PhD '20, a project hydrologist at LRE Water.
Hydrologists are looking at anything and everything for how to plan for that future reality. Gilliom, for example, does decision-support through various types of hydrologic modeling, supply and demand planning, water quality management, and looks at how changes in reservoir management and infrastructure operations impact watersheds.
That's not always easy with the future still unknown. Because of climate change, "the kind of hydrological modeling relationships and expectations—that we have this much snow translated to that much stream flow— are changing," she said. That makes her job, and that of thousands of other hydrologists, more challenging.
Solutions being considered and implemented
To start, managing water on the supply side is critical and going to become even more so, said Marshall. "In western watersheds, we manage water for both flood control and water supply. If runoff comes earlier in the year, you might need to release that water to maintain space in your reservoir or you end up with less to work with later in the summer when you need it," she said. Advanced modeling, for both what snowpack will look like in the future and near-future weather forecasts, can help.
Gilliom's kind of modeling can also assist water providers working with land managers, giving them a picture—even if it's bleak—of the future water supply they'll have. LRE Water pulls together data on things such as streamflow, reservoir levels, groundwater levels, temperature and water quality parameters to create custom dashboards that give water managers an interactive visualization that helps them optimize use of available supplies and make plans for a day, month or further in the future.
Having this information at their fingertips can lead to zoning changes that limit things like the amount of decorative turf grass allowed in both public and private spaces. In November 2022, for example, Castle Rock, Colorado, passed a law limiting the number of lawns around new homes, starting in January this year. The town is also looking for alternative water sources to move away from relying on nonrenewable ground aquifers, as it mostly does today.
This kind of forecasting can also lead to better understanding of existing groundwater resources, determine if they're potentially contaminated and figure out how to tap groundwater without pulling contaminated water towards drinking water in general.
That's what Savannah Miller MS '16 does in her role as a hydrologist at environmental firm Brown and Caldwell, where she helps facilities, municipalities and small governments work with water. "If you're dealing with water in the future, understanding scarcity and understanding how we share water and how we deal with too much water or contaminated water will never not be an issue," she said.
In only five years on the job, her work has already changed due to the world changing around her. Now she's "not just trying to get an answer. I'm trying to understand what I'm doing and why I'm doing it," she said. "I'm trying to focus on the big picture of what I'm doing."
At the same time the mechanics of hydropower are having to change, it's also being seen as an increasingly important source of renewable and decarbonized power, Marshall said. While water in dams and reservoirs can be managed as a source of power storage, researchers are working on creating grid-scale battery storage technologies that could ensure that power generated via carbon neutral resources, like wind and water, can be saved and redistributed when necessary. "Batteries could be particularly useful if hydropower declines," she said.
Advances and the expanded use of pumped storage hydropower can also help better manage a dam's output. These are made by connecting two reservoirs, one at a higher altitude than the other. The water is released through a turbine that then spins a generator and creates power. Pumped storage hydropower makes up 93 percent of the country's grid-scale energy storage today, according to the National Renewable Energy Laboratory.
As the size of that kind of storage expands, more and better pumped storage hydropower could play a role in supplying power to the West.
What the future of water management will look like
In the future, water managers are going to be looking for ways to manage a limited resource more effectively by balancing risks with benefits and in some instances, taking on more risk, said Ken Brettmann '84, chief of hydrology at the U.S. Army Corps of Engineers' Seattle district.
While western Washington State, the region he covers, is generally fairly wet, it still has its own drought problems. Its droughts aren't as extreme as in the Southwest, but it's still something they must plan for.
"My job is managing risk, looking at the probability of something happening and the consequences," he said.
At Howard Hanson Dam near Seattle, Brettman and his team re-evaluated the relationship between water stored in the reservoir for drought mitigation and the associated risks and benefits of when to release that water. His team realized that past operations were based on a very conservative and risk adverse approach, which mandated saving a significant volume of water in the reservoir each year in the rare event that the typical summer dry season extended into late fall. While the availability of stored water would be beneficial in that case, it would be more beneficial to release that stored water earlier in the year during the typical summer dry period.
Brettman's team made similar changes to how water is managed at the Ballard Locks in Seattle. Previous operations limited releases from the project during the summer dry season for fisheries purposes based on a concern that available reservoir storage could become limited under fall drought conditions. Modified operations in recent years release more water during the summer to benefit fish while assuming an increased risk that storage could become limited in the event of a severe fall drought. The team concluded that this is an acceptable trade-off since the benefits outweigh the risks in most years.
To further mitigate these risks, Brettman's team also created a water conservation plan that can be implemented in the event of a severe fall drought. This plan was used successfully to avoid a water shortage during a severe drought several years ago.
These kinds of changes in water management are most likely to evolve in the future, he said, as he doubts there will be much construction of new dams or reservoirs. "We aren't just focused on making physical changes at dams and reservoirs," Brettmann said. "We are looking at how we manage them to see if there are operational changes that can help provide resiliency to short-term climate variability and longer-term climate change."
The imbalances of water-related weather events, sometimes happening at the same time, can also help to maximize the use of hydropower, added Marshall, by supplying power to an interconnected electric grid. That means that droughts in one part of the country could be offset by other areas of the country experiencing ideal power-generating conditions.
"There are opportunities to manage water better," said Marshall, even if what happens with water is not entirely in hydrologists' control. "There's the adaption side, but there's the climate mitigation side where, to the extent that we can reduce burning fossil fuels, we will help our water system."