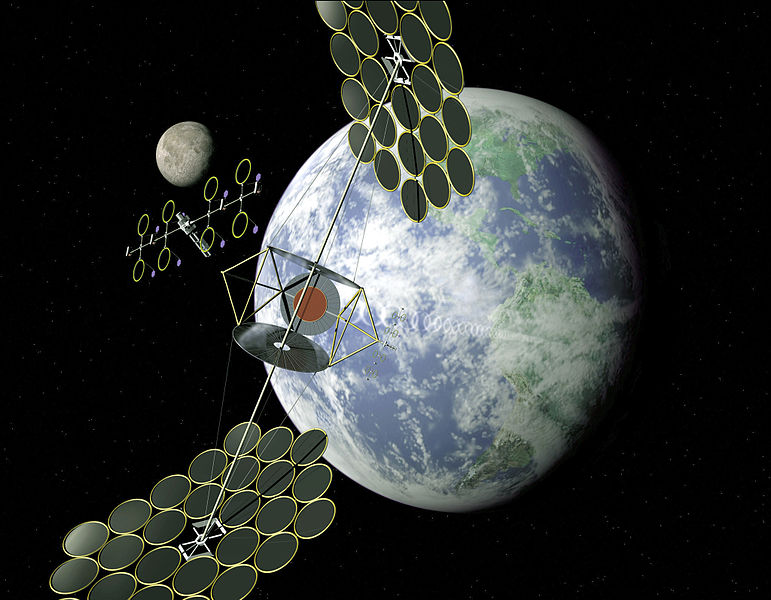 It's always sunny in space, and the feasibility of harnessing space-based solar power for use on Earth and beyond is the subject of a newly funded research project coming out of Colorado School of Mines. 
Ian Lange, assistant professor of economics and business and director of the Mineral and Energy Economics Program, has been awarded a one-year grant from NASA to study what it would take to create commercially viable space-based solar power. His was one of five economic research studies examining investments in the global space economy to be chosen for NASA funding, announced earlier this month.
 
"We're going to go beyond the cost analysis to look at other regulatory issues that would impact feasibility," Lange said. "It's one thing to model this out and say this is what we think will be the cost. It's another thing to say how are people going to purchase this, how are we going to ensure costs don't run out of control, how are we going to market this or sell this to some kind of bank or venture capital fund."
"It's a lot of money to put one of these things up in space," he said. "You need more than a model that says nuclear power is 15 cents per kilowatt hour and this is 14."
Space-based solar power is exactly what it sounds like—solar panels in space that can capture energy from the sun 24 hours a day. That power could be beamed to receptors on Earth or used in space to meet the energy demands of future space mining and resource extraction operations.
Lange plans to explore how the federal government could regulate those Earth-based receptors as part of his research, as well as the types of financial instruments that could be used to back the development of space-based power stations. 
"The two markets that everyone is interested in as far as space-based solar power is advanced deployment of military units and remote mining operations," Lange said. 
The study marks Lange's first foray into space resources research, an area of growing emphasis at Mines. The school is working on launching a graduate program in space resources, with the first class, Space Resources Fundamentals, being taught this fall. 
"The recent NASA award to Professor Lange on an economic feasibility study for space solar power highlights the multidisciplinary nature of the space resources field," said Angel Abbud-Madrid, director of the Mines Center for Space Resources and research associate professor in mechanical engineering. "That is why the proposed space resources graduate program includes faculty members from all of the colleges at Mines to address the scientific, engineering and economic aspects of using resources found beyond our planet." 
Also contributing to the NASA-funded study are co-principal investigators Rod Eggert, professor of economics and business and Viola Vestal Coulter Foundation Chair in Mineral Economics, and Peter Maniloff, assistant professor of economics and business. 
"I'm excited to keep working with the engineers in the space resources group," Lange said. "There's more to come."
CONTACT
Emilie Rusch, Public Information Specialist, Communications and Marketing | 303-273-3361 | erusch@mines.edu
Mark Ramirez, Managing Editor, Communications and Marketing | 303-273-3088 | ramirez@mines.edu