'La Mariposa' takes flight in Peru to capture cyanide used by small-scale gold miners 
Mines researchers developed the portable treatment system in partnership with Universidad Nacional de San Agustín de Arequipa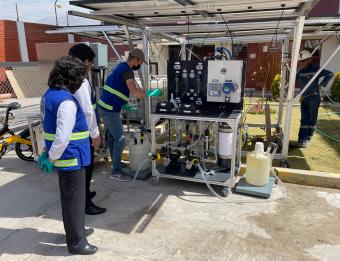 Civil and environmental engineering researchers at Colorado School of Mines have developed a mobile system for reclaiming the cyanide used in gold processing by small-scale and artisanal miners in Peru. 
La Mariposa, the Spanish word for butterfly, uses a membrane distillation process to strip cyanide out of the chemical solution used by gold miners, capturing that cyanide for reuse. Powering the portable treatment system are wing-like solar panels – the inspiration for the name – which would allow the system to operate in the remote areas in which miners typically work. 
"Cyanide is used in gold extraction processes worldwide as a replacement for mercury," said Christopher Bellona, associate professor of civil and environmental engineering. "But cyanide comes with its own set of challenges – it's also toxic and can bind with other metals and cause environmental problems." 
The project is an initiative of the Center for Mining Sustainability, a partnership between Mines and Universidad Nacional de San Agustín de Arequipa (UNSA). Since 2019, the two universities have been working together to tackle one of the most important societal and environmental issues facing southern Peru – how to manage mining of natural resources in a manner that is sustainable, supports local economies and minimizes environmental impacts. Initial projects have targeted protecting water resources, improving mine safety, reducing risk from geologic hazards, and improving mining processes. 
The prototype of La Mariposa was built on the Mines campus and delivered to UNSA in late 2022. Local newspapers in Arequipa covered the official unveiling. 
As Johan Vanneste, research associate professor of civil and environmental engineering, told reporters in Peru, researchers had initially been asked to develop a system to destroy the cyanide using peroxide and UV light. 
But once the team met with gold miners in the Arequipa region, they realized that recovering the cyanide for reuse would make more sense, from an economic and environmental perspective. 
"Most destruction methods have high chemical costs and no beneficial products. On the contrary, they often generate by-products, like ammonia, that generate other problems like eutrophication, which can lead to algae blooms, dead zones and fish kills," Vanneste said.  
Mines had previously demonstrated the use of membrane contactors for ammonia recovery from wastewater. And just like ammonia, cyanide can be volatilized and captured on the other side of a porous hydrophobic membrane by applying a pH differential.  
"Our initial techno-economic analysis confirmed that the avoided purchase costs of cyanide outweigh the cost of the membrane system and the chemical costs of pH adjustment," Vanneste said. "While the profit margin is larger for large-scale mines, membrane contactors can still be profitable for small-scale miners and constitute a modest investment." 
Capturing the cyanide for reuse also has environmental benefits, by reducing the amount of the chemical that ultimately ends up in the tailings ponds that most small mines use to store wastewater.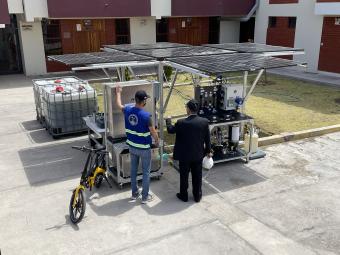 PhD student Vincent Hammer has traveled to Peru twice for fieldwork with UNSA colleagues.  
"I got introduced to this project as part of my bachelor's thesis research. The initial work I did during this time was very captivating and felt impactful, so I decided to pursue a PhD in order to keep working on this project," said Hammer, who did his undergraduate studies in biotechnology at the University of Applied Sciences Mittweida in Germany. "I am very interested in this project because of the international cooperation between the two universities and the immediate real-world application these technologies have." 
Mines researchers plan to return to Peru again this summer to test La Mariposa in the field. 
"The next step is evaluating the system's operation long term on real water," Bellona said. "We need to determine how well it works, its efficiency, any potential issues with water quality. To get it adopted, it comes down to economic factors, and that's what we're focused on now – cost analysis and gathering data on long-term operations so we can come to a better understanding of how feasible it is and the economic benefits." 
Also contributing to the project is Linda Figueroa, professor of civil and environmental engineering, and David Vuono, research assistant professor of civil and environmental engineering.