Katie Varnadoe: "My dream job is to become a Disney Imagineer."
Orlando, Florida
Civil Engineering Student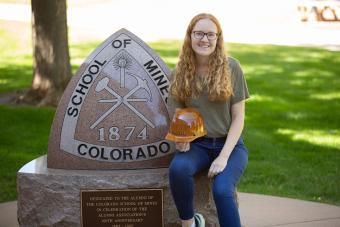 Why did you choose to come to Mines? What have you enjoyed most about being here?
I chose to come to Mines for its reputation in the STEM industry, the high percentage of students graduating with job offers and the small campus feel. It's been a great experience to be a part of a close-knit community and to see how much alumni still care about the school after graduating! The career fair is always a great way to see how many people love Mines, whether they're alumni or companies who love Mines students for our work ethic and it always motivates me to work harder to get cool internship experiences. Everyone on campus is a friendly face and even if your classes feel impossible to get through, you can always find a support system to help get you through it.
Tell us about something you're working on right now that you find exciting, fulfilling or challenging?
I'm trying out an online class for the first time which is pretty exciting and challenging! I'm very glad that through my co-op and courses I have learned good time management skills because it's been interesting to see how much you rely on yourself in an online setting. You really have to focus on the course and set hard deadlines to get everything finished on time. It's showed me how an online/in-person class balance can work, and how beneficial it is to have more class options than we did before.
Have you done an internship or co-op or been in a professional job while at Mines? Tell us who you worked for and what you were doing. What stands out?
I just completed a co-op with Walt Disney Imagineering in Orlando, Florida as a project controls specialist intern. I got to work on a new ride coming to Disney's Hollywood Studios, as well as some side projects as needed. I helped with estimating and planning of the attraction, and got to work with some of the most creative minds in the industry! It was amazing to see how engineering backgrounds can be combined with art in a truly STEAM manner and see the results it can create first hand. My co-op meant I could get Mines credit for spending a year at Walt Disney World, and got to network and learn from some of the best mentors a student could ask for.
My bosses and co-workers always answered my questions, gave me new challenges and helped me grow professionally in so many ways and I am so grateful to have gotten that experience. My department, advisor and the Career Center were all so helpful on my journey and continue to help me as I'm transitioning back into classes now as well! Prior to my co-op I also completed an internship with Hensel Phelps, a general contractor whom I got to meet through the career fair at school. It was an amazing experience that allowed me to see what working in construction is like and showed me what it's truly like in the industry I want to be in once I graduate.
My team and project were awesome, and I was so lucky to have been a part of their internship program! Both Hensel Phelps and Disney gave me invaluable experience that has helped me in my education and has helped me grow as an individual. I am so grateful for the opportunities I have been given, and hope that my teams loved me as much as I loved them! I love that Mines gives students the chance to seize opportunities as they come, and really help us succeed along the way.
What communities, groups or organizations, on- and off-campus, are important to you and why?
I love SWE for always empowering women at Mines to succeed and build each other up with events and networking, and ASCE for hosting weekly meetings where industry leaders come and speak. My favorite group on campus would have to be the Career Center, as they have helped me so much already in my time here. The Career Center gave me a job and helped me hone my interview skills and create a resume that stands out to companies I'm interested in. Everyone there is trying to help you succeed and land your dream job! Their interview tips helped me land an internship with Hensel Phelps, one of the best GCs in the nation. Then having Mines and that internship on my resume helped me get to Disney and fulfill my lifelong dream of working there, on a co-op which meant getting college credit while working.
What are your plans for the future? What's your dream job?
My plan is to stay in the construction industry with either a general contractor or go back to Imagineering full time! My dream job was always to work for Disney and become an Imagineer, and I am so grateful that with my resume having Mines on it I was given the opportunity to live my dream and hope to continue it in the future.
What would you tell someone interested in joining your academic program or Mines in general?
I would tell them that Mines is more than a STEM school and that having the work ethic it takes to thrive at Mines can help you no matter what your dream job is. The problem-solving and time-management skills you learn are invaluable and will help you so much in the real world! Everyone on campus wants you to succeed, and the support of faculty and staff really makes a difference in getting through tough courses and prepares you for life after college.
What's your favorite thing to do outside of class and coursework? How do you unwind, manage stress, find fulfillment, etc.?
My favorite thing to do outside of class or coursework is to find new books to read. I also love to spend time with my two pups, Trixie and Sparky, and frequently cook or bake vegan desserts!
Tell us something about you that most people would be surprised to learn?
I love theme parks, but am terrified of Ferris wheels. They freak me out!