Alaina Clar: "I plan to start my own company and pay it forward by making sports more accessible to people with hearing loss by manufacturing protective equipment for hearing devices."
Oregon City, Oregon
Mechanical Engineering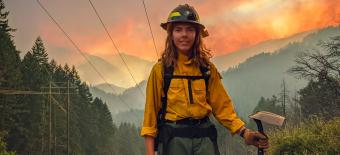 Why did you choose to come to Mines? What have you enjoyed most about being here?
I choose Mines because of the campus mindset, focusing on problem-solving and engineering. The Mines student community has diverse passions, and you can always find an outlet for them. The campus is also in a beautiful location, with a small-town feel. I enjoy the fact that Mines brings so many people together, to not only further our engineering and science abilities but also learn what it means to be a Mines engineer after college.
Tell us about something you're working on right now that you find exciting, fulfilling or challenging.
I love projects, and currently, I am planning my next project: making an electric motorcycle. With the sustainability benefits of electric transportation in mind and gas prices skyrocketing, I am eager to use the tools and resources we have on campus to complete this project. Mines facilities provide great opportunities to do projects, and I look forward to taking my learning out of the classroom to build it. Once completed, my electric motorcycle will be my transportation to campus and on it.
What communities, groups or organizations—on- and off-campus—are important to you and why?
I am a part of the Harvey Scholars Program at Mines, and I owe everything to them. Not only do they provide the means for me to study here through the Harvey Scholarship, but they also provide a great support group through continued scholar events and community service opportunities. Being involved at Mines is important to me; in addition to the Harvey Scholars Program, I'm involved in the Mines Women's Rugby team, Pi Beta Phi, MAC E-Days committee and the Undergraduate Student Government.
What are your plans for the future? What's your dream job?
I hope to work in the mechanical or aerospace engineering industries, but I am also very passionate about accessibility. I plan to start my own company and pay it forward by making sports more accessible to people with hearing loss by manufacturing protective equipment for hearing devices. The application of engineering to create solutions to problems fascinates me, and I can't wait to apply my engineering education for a good cause.
What would you tell someone interested in joining your academic program or Mines in general?
Mines is a really unique environment, where it seems like a small community. I really enjoy the support and opportunities everywhere you see on campus, whether that's sports, clubs or organizations. There is always a new club just starting up, and you have so many options to explore your interests outside of the classroom!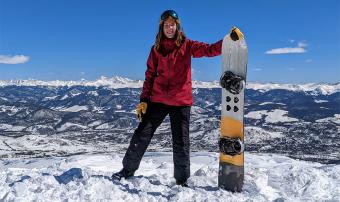 What's your favorite thing to do outside of class and coursework? How do you unwind, manage stress, find fulfillment, etc.?
I'm on the Women's Rugby team here at Mines, and I enjoy being a part of the team! I never even touched a rugby ball before coming to Mines, but it has become a great outlet to play hard after working hard. Snowboarding is another passion of mine, and I've fallen in love with the Rocky Mountains and everything there is to do in them.
Tell us something about you that most people would be surprised to learn?
Most people would be surprised to learn that I am actually deaf! I was born without any hearing and had Cochlear Implant surgery when I was young. It's still a struggle for me to hear others, especially with any background noise whatsoever. My deafness is a part of me, and at times it becomes a hurdle I have to face and overcome. My Cochlear Implants aren't visible a lot of the time, so I have to be proactive about getting the hearing help I need. Mines has made the accommodations and support for my hearing loss very easy to receive, and the Disability Support Services at Mines are amazing!