Josh Ramey: "I can't overstate the importance of representation and the feeling of belonging..."
Carlsbad, NM
Director | Teaching Associate Professor
Undergraduate Quantitative Biosciences and Engineering Program
Department of Chemical and Biological Engineering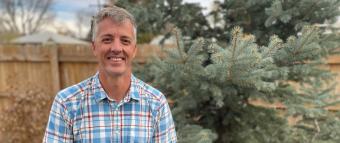 Tell us about something that you're working on right now that you find exciting, fulfilling or challenging.
I recently began my role as the director of the new undergraduate program in Quantitative Biosciences and Engineering and I am really excited about creating a new program that allows Mines students to pursue their passions and make meaningful contributions in the biological sciences. Also excited and challenged by the fact I just started playing water polo.
What do you enjoy most about working at Mines (or in a STEM field)?
The thing I enjoy most about working at Mines is getting to interact with students and my colleagues, both of which keep me intellectually stimulated, engaged and having fun.
Can you tell us about oSTEM on campus? What's your role in oSTEM, what is the organization and why is it important?
oSTEM stands for "Out in Science, Technology, Engineering and Math" and is the LGBTQ+ student organization on campus. My role is to advise the student-led club and support them as much as possible. oSTEM is a supportive community in which members of the LGBTQ+ community know they are loved and supported. I can't overstate the importance of representation and the feeling of belonging to a community that is so important in young LGBTQ+ individuals' lives.
What's your favorite thing to do outside of the classroom? How do you unwind, manage stress, find fulfillment?
I love spending time with my wonderful husband, Justin, and my dog, Chloe. We enjoy hiking together, traveling and swimming.
Tell us something about you that most people would be surprised to learn.
I was married in Iceland. In 2013, when Justin and I got married, it was not yet legal in Colorado and in many parts of the United States. So after our civil union ceremony in Denver, we got married in Reykjavik, cementing Iceland as a magical place in my life!
Is there anything additional that you'd like to add about your work, the LGBTQIA+ Community at Mines, resources or advice/insight relevant to LGBTQIA+STEM Day?
I would like to just say how proud I am to work with oSTEM on the Mines campus. I am constantly amazed by the advocacy and caring the students promote for their fellow members of the LGBTQ+ community. I also want to thank all the allies on the Mines campus for the support and welcoming community that you provide to our LGBTQ+ students. There's still work to be done, but I feel we've made progress during my eight years as a member of the Mines community.