Jordan Weber: "I know that the electrical engineering education I'll get from Mines is one of the best in the world, and even though it might be one of the hardest things I do, it will set me up for success."
Colorado Springs, Colorado
Electrical Engineering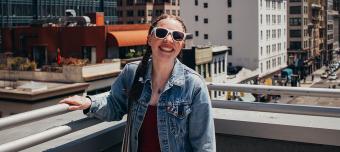 Why did you choose to come to Mines? What have you enjoyed most about being here?
I came to Mines because I knew it was the best place for me at this point in my life. I visited campus for a science competition in 7th grade, and it was always my goal to get to Mines for school one day. I loved the campus, the community and the education Mines had to offer. Since coming to Mines the thing I have enjoyed most is the people here. I have made some of my best friends at Mines. The community here really is a community that will help each other out and wants to see others succeed, which is so great to be a part of.
Tell us about something you're working on right now that you find exciting, fulfilling or challenging?
Honestly, just working on my degree is so fulfilling. It's a lot of work and is very challenging, but I absolutely love everything I'm doing and learning. Mines can be tough, but I know that the struggle is for a reason, and I'm super excited to apply my education to my life once I graduate.
Have you done an internship or co-op or been in a professional job while at Mines? Tell us who you worked for and what you were doing. What stands out?
I did an internship in the summer between my freshman and sophomore year (summer of 2021) for Bentley Nevada, a subsidiary of Baker Hughes. I was a services intern, meaning customer services, but customers are large companies who worked with Bentley Nevada products. I did field engineer work and did a lot of site visits. One that stood out especially was a visit to General Atomics in San Diego, where I got to work on the vibration monitoring system of a machine that generated power for nuclear fusion research. It was really exciting and cool to learn about the professional side of engineering and expand my experience with an internship. I loved the internship so much that I knew I had to do another one, so I accepted one at Nevada Gold Mines for the summer of 2022. Even though I'll be doing a completely different internship, I'm super excited to learn new things and gain even more experience.
I also have worked at the Mines Career Center since September 2020. I love being a student assistant and growing a relationship with employers that come through Mines. The Career Center team is amazing and my favorite thing I've done so far is helping out with the in-person career fair in 2021.
What communities, groups or organizations—on- and off-campus—are important to you and why?
I am the drum major in the Mines marching band, which is very important to me. I love being a leader and getting to make music with my closest friends.
I am also in the Society of Women Engineers, which gives me a strong community of women that I can rely on. I love learning more about women in engineering and making myself better through guest speakers at our weekly lunch meetings.
I'm also thankful to be in a strong church community, the Church if Jesus Christ of Latter Day Saints. We're a small community on campus, but we're all really good friends, and we often get through the struggles of school and everyday life together.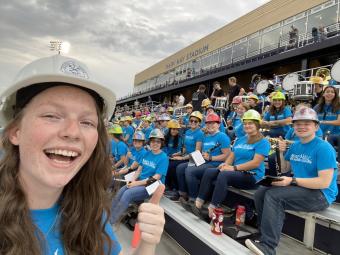 What are your plans for the future? What's your dream job?
I really want to work in digital signal processing and satellite communications. I think space, in general, is really cool, so working with satellites would be the dream.
What would you tell someone interested in joining your academic program or Mines in general?
Mines is really tough and sometimes puts you at your breaking point. But it is so worth it. I know that the electrical engineering education I'll get from Mines is one of the best in the world, and even though it might be one of the hardest things I do, it will set me up for success.
What's your favorite thing to do outside of class and coursework? How do you unwind, manage stress, find fulfillment, etc.?
I enjoy making things outside of school. I really like cooking, I've always said if I wasn't an engineer I'd probably go to culinary school. I also sew and cross stitch. I've made a few quilts, and I always have an in-progress cross stitch to keep my hands busy and unwind after super busy days. Lastly, I create music. I've played the piano and the saxophone since I was a kid, and I may not be incredible, I find listening and making music really relaxing.
Tell us something about you that most people would be surprised to learn?
Even though my education and future career are STEM-focused, I actually really enjoy learning about history. I lived in England when I was young, and the deep and rich history of Europe always fascinated me. I'm always down for a good documentary or getting lost in a Wikipedia hole learning about monarchs or castles and other things like that.