Jessica Smith writes book on engineering and corporate social responsibility
Smith, director of the Humanitarian Engineering Graduate Program, is an associate professor in the Engineering, Design & Society Department.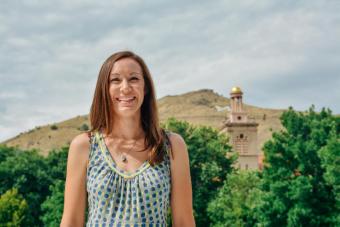 Calls for greater corporate social responsibility place new demands on engineers' everyday work, as Mines associate professor Jessica Smith demonstrates in a new book published by The MIT Press.
Titled "Extracting Accountability: Engineers and Corporate Social Responsibility," Smith's book traces how engineers working in the mining and oil and gas industries manage their accountabilities to their employers, to their profession, to the public, and ultimately to themselves. The book is available open access thanks to the National Science Foundation's Cultivating Cultures for Ethical STEM program, which also funded the original research.
Carl Mitcham, an emeritus Mines professor and principal philosopher of engineering, described the book by saying, "There is no better study of the ground-level, life-lived complications for engineers as they work to transform the world in which we all have a stake. What Jessica Smith extracts from the complex world of mining throws light across the engineering profession as well as into the problematics of any engaged scholarship today."
Smith is busy with a virtual book tour, with invited lectures for the American Society for Engineering Education, the Online Ethics Center for Engineering and Science, the IEEE ETHICS 2021 conference, the University of Pennsylvania's Center for the Sustainable Separation of Metals, and other universities.
Smith and Mines student Cecilia Schroeder (MS in Humanitarian Engineering and Science) created lesson plans for engineering faculty who would like to use portions of the book to teach ethics in their own classes. Those are publicly available on the project website.
Smith is an anthropologist who previously published the book "Mining Coal and Undermining Gender: Rhythms of Work and Family in the American West" in 2014. She continues to write about energy transitions in coal communities.
Smith is a co-convener of the STS Underground network and co-organized the 2016 "Energy Ethics: Fragile Lives and Imagined Futures" conference at the University of St. Andrews. She holds a bachelor's degree in international studies, anthropology and Latin American studies from Macalester College and a PhD in anthropology and a certificate in women's studies from the University of Michigan.