Iris Bahar honored with University of Illinois Distinguished Alumni Award
The award recognized her contributions to engineering education, development of energy-efficient and reliable computing systems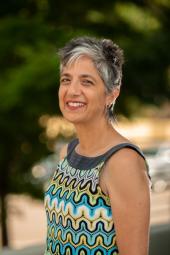 Iris Bahar, professor and head of the Computer Science Department at Colorado School of Mines, has been recognized with a 2022 University of Illinois Distinguished Alumni Award.
The award, given annually by the Electrical & Computer Engineering Department, honors graduates who have made professional and technical contributions that bring distinction to themselves, the department, and the university.
Bahar holds B.S. and M.S. degrees in computer engineering from the University of Illinois, Urbana-Champaign. She was recognized for her "contributions to engineering education and the development of energy-efficient and reliable computing systems."
An IEEE Fellow and ACM Distinguished Scientist, Bahar joined Mines in 2022 to lead the Computer Science Department. She previously served on the faculty of Brown University from 1996 to 2021, where she held dual appointments as a Professor of Engineering and Professor of Computer Science. She has a PhD in electrical and computer engineering from the University of Colorado, Boulder.
Bahar's research lies in computer system design and electronic design automation, with a focus on energy-efficient and reliable computing, from robots, to high-end processors, embedded systems, and emerging technologies. She has also been a frequent speaker at conferences, workshops and NSF/CRA events on challenges and strategies for women and underrepresented groups in computing.