Industry group backs new Heavy Construction Studio at Mines with $900,000 grant
Campuswide-program will give students skills, experience and connections for careers with firms that build complex infrastructure projects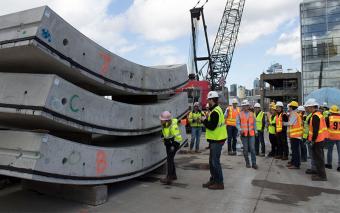 Colorado School of Mines is designing a new pathway for students to build careers in the heavy construction industry, thanks to a three-year, $900,000 grant from The Beavers Charitable Trust.
The Heavy Construction Studio at Mines is a campus-wide program that will give students skills, experience and connections to work for firms that build complex projects like dams, highways, pipelines and tunnels.
"Heavy construction is a rewarding career pathway that many students don't know about, so our first goal is to build more awareness across campus," said Mike Mooney, PhD, PE, Grewcock Chair Professor of Underground Construction & Tunneling, who leads the Heavy Construction Studio. "The Beavers is made up of the country's most prominent heavy construction leaders, and their investment in our approach to inspiring and educating students is a real testament to what industry thinks of Mines and our graduates."
Read more about the new program on the Campaign for MINES@150 site.