Incoming students to kick off academic year with M Climb
The 2019 M Climb will be held the morning of Friday, Aug. 16.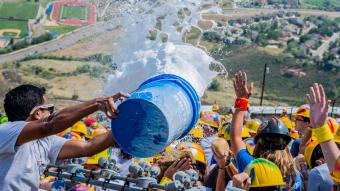 The Colorado School of Mines "M" is visible far beyond Golden in the Denver metro area, but did you know there are 1,653 LED light bulbs illuminating the mountainside emblem  And that it takes five 55-gallon drums of whitewash to freshen it up every August as part of the annual M Climb? 
The 2019 M Climb will be held the morning of Friday, Aug. 16, with Mines President Paul C. Johnson, faculty and staff joining the incoming class of Mines students on the hike up Mount Zion.
Colorado School of Mines received 12,304 applications for the 2019-2020 academic year and will welcome about 1,450 new freshmen and transfer students this fall. Classes begin Monday, Aug. 19.
New Mines students: By the numbers, 2019-2020 edition  
33                    percent women
23                    percent underrepresented domestic ethnic or racial groups
14                    percent first-generation college students
4.9                   percent international students
1360                average SAT composite score
30                    average ACT composite score
3.77                 average high school GPA (on unweighted 4.0 scale)
48                    states and U.S. territories represented
17                    countries represented
4                      sets of twins
 
Top 4 U.S. states outside Colorado: Texas, California, Washington, Illinois           
Top 4 countries outside U.S.: Saudi Arabia, China, South Korea, Canada
 
M Climb logistics
Timing
The M Climb will kick off around 7:35 a.m. Friday, Aug. 16 on the South Intramural Fields (1651 Elm St., Golden). Members of Blue Key Honor Society will be spray-painting the hard hats of new students before the climb up Mount Zion begins.
Route
Students will walk from the IM Fields to 19th Street, cross over U.S. 6 and then climb up Lookout Mountain Road to the M. After the climb, students will be bused back to campus for a cookout on the South IM Fields.
Note on Access
During the M Climb, Lookout Mountain Road will be closed to the public above the arches until 1 p.m. Friday.