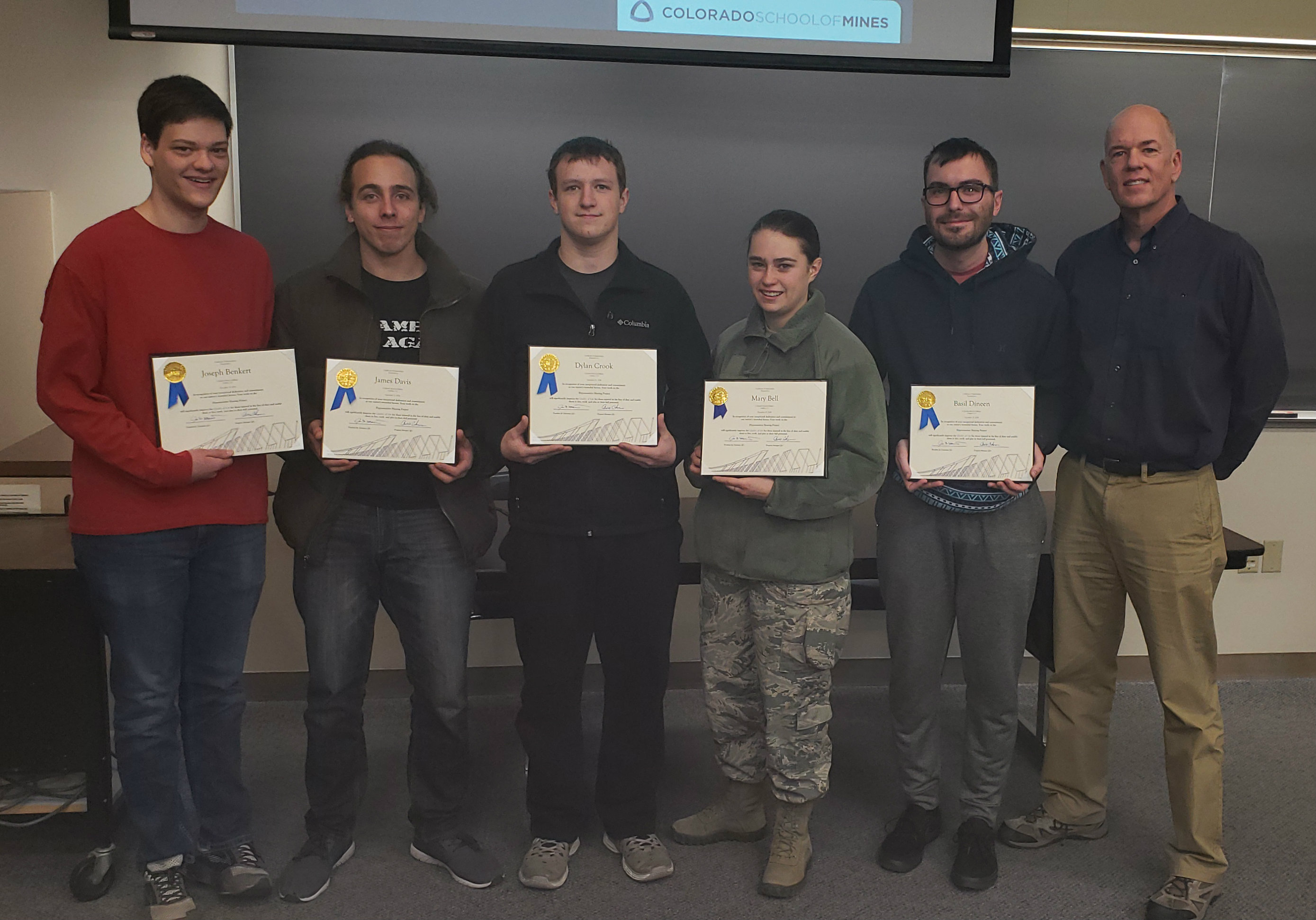 An improved pair of noise-canceling headphones designed specifically for a former state trooper who suffered a traumatic brain injury in the line of duty was awarded first place in the Fall 2018 Capstone Design Showcase on Dec. 4.
The Hypersensitive Hearing Project worked with
nonprofit organization Quality of Life Plus
to assist the former North Carolina trooper, who has had to deal with hypersensitive hearing issues since a patrol car collision nine years ago.
The team's proposed headphones, modified from an existing pair to improve comfort and sound reduction, were designed to allow the trooper to more comfortably participate in daily activities, such as going out to dinner with his wife. 
Forming the winning team were mechanical engineering students Mary Bell, Dylan Crook, James Davis and Basil Dineen and electrical engineering student Joseph Benkert.  
Second place went to the
Cyclist Injury Prevention Challenge
, for its algorithm to determine cycling hazards along any given route. Team members were Canaan Forslund, James Frazar, Kevin Miller, Hunter Nelson and Thomas Staver and the project sponsor was the
Chad William Young Foundation
. Young, a mechanical engineering student at Mines, died in 2017 from injuries sustained in a crash during the final stage of the Tour of the Gila professional cycling race in New Mexico.
Third place went to Powder Bed Fusion Additive Manufacturing of Metals and its modular education tool for additive manufacturing. Sponsored by Mechanical Engineering Associate Professor Aaron Stebner and the Alliance for the Development of Additive Processing Technologies (ADAPT), the team was made up of Ethan Rogers, Nicholas Low, Justin Lindell, Cory Voorhis and Nick Engel. 
Projects were also recognized for their innovation, societal impact, proof of concept and professionalism.
Best Innovation went to:
Uniservice Bed, sponsored by Jayco Enterprises
Powder Bed Fusion Additive Manufacturing of Metals
Best Professionalism was given to:
Flowbench - Team Influunt, sponsored by Mechanical Engineering Associate Professor Greg Bogin and the Mines Formula Race Team
Water Model for Steel Continuous Casting, sponsored by Mechanical Engineering Professor Brian Thomas of the Continuous Casting Center
Best Societal Impact was awarded to:
Hypersensitive Hearing Project
Best Proof of Concept went to:
Climate Battery, sponsored by Warren Tech 
Hypersensitive Hearing Project
Water Model for Steel Continuous Casting
Powder Bed Fusion Additive Manufacturing of Metals 
In the Broader Impacts essay contest, mechanical engineering student Grant Gale won first place for "Impacts of the Petroleum Industry," fellow mechanical engineering student Ali Artzberger took second for "Adapting Attitudes Toward Adaptive Technologies" and environmental engineering student Sarah Mass earned third for "Frankly My Dear, I Don't Want a Dam."
CONTACT
Emilie Rusch, Public Information Specialist, Communications and Marketing | 303-273-3361 | 
erusch@mines.edu
Mark Ramirez, Managing Editor, Communications and Marketing | 303-273-3088 | 
ramirez@mines.edu