How can we decarbonize the metals industry? Mines researchers are working toward the answers.
In the U.S. and around the world, there's a push to cut greenhouse gas emissions by the metals industry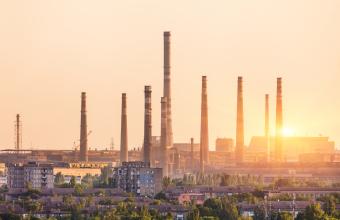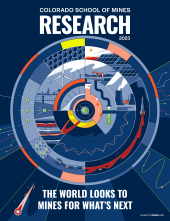 In May 2021, the United States and the United Kingdom launched the G7 Industrial Decarbonization Agenda (IDA) to reduce greenhouse gas emissions from heavy industries like steel, cement and chemicals. IDA is meant to guide the global economy toward industrial decarbonization and make meaningful steps forward to fight climate change.
Decarbonization in the metals industry has already begun in the United States, and we're one of the cleanest steel industries in the world, said John Speer, director of the Advanced Steel Processing and Products Research Center and professor of metallurgical and materials engineering.
"We're not at the end point, but in some ways, we're farther along at the beginning of this effort compared to other countries," he said
For example, Speer explained how the electricity used in the process of making steel can come from renewable sources, such as solar or wind, eliminating the need for carbon. But electricity is the basis for recycling steel, not for converting iron ore into raw steel. In steel production from iron ore, oxygen is stripped from iron oxide and often carbon, coming from coal, is used in that process.But new ways of making steel — like using hydrogen-based fuels instead of coal — are being adopted, and electrolytic processes to reduce iron ore using electricity are also being explored.
But Speer said the efforts to become carbon-free during steel production are just part of a bigger picture. There's still carbon being used at other steps along the way, maybe in the mining or heating processes when making other materials such as aluminum.
"It's not enough just to use electricity," Speer said. "You have to have renewable electricity as well, or nuclear power, before you can actually take the carbon out of the system."
Though processes are becoming more sustainable in the U.S., another problem lies in how companies are recording and reporting their carbon use and greenhouse gas emissions. "There is unfortunately no standardized way to measure decarbonization, and that makes it hard for companies to know what to focus on," said Jordy Lee Calderon, a PhD student in mining engineering and former program manager at the Payne Institute for Public Policy at Mines. "A lot of companies want to prove they're sustainable, but they're not sure what kind of data to report."
Calderon is part of the Coalition on Materials Emissions Transparency, an effort with the Rocky Mountain Institute and the Massachusetts Institute of Technology Sustainable Supply Chains initiative, to standardize how companies report their greenhouse gas emissions, including the steel industry. He said because Mines has the right experts to lend technical expertise to the effort, we're the ideal partner.
"Mines is a great place for a lot of this work," Calderon said. "Having the Advanced Steel Processing and Products Research Center, faculty with mining expertise, good relationships with many different companies across sectors— all these assets put us in a place that makesMines an ideal place to work on decarbonization efforts. We're a very trusted voice, and I think that's something that's going to be of value in the future."