Heather Hoffman: "I chose Mines because of the quality education and opportunities it would present."
Fort Morgan, Colorado
Metallurgical and Materials Engineering Student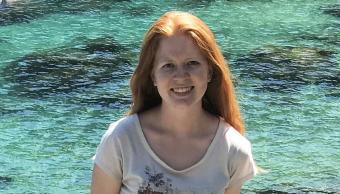 Why did you choose to come to Mines? What have you enjoyed most about being here?
I chose Mines because I knew it would set me up for my future between the quality education and opportunities it would present. The thing I have enjoyed most about Mines is the community, no matter what you will find your people.
Tell us about something you're working on right now that you find exciting, fulfilling or challenging?
I am currently working on finding a job, which has been an exciting experience as I speak with companies knowing I have something to offer them.
Have you done an internship or co-op or been in a professional job while at Mines? Tell us who you worked for and what you were doing. What stands out?
I worked for SSR Marigold in northern Nevada as the process intern. I did data processing, ran QA/QC tests and rewrote procedures for various processes. I was also in charge of different experiments. The thing that stands out is how fun it is to work in an industry you are passionate about.
What communities, groups or organizations—on- and off-campus—are important to you and why?
I am the president of Mines Catholic Campus Ministry which is a fantastic group of various majors that allows everyone to come together off a common belief. I am also a part of the McBride Honors Program which challenges students to be more than engineers and to see that the world is bigger than we can possibly imagine.
What are your plans for the future? What's your dream job?
My plans for the future are to go into industry and work as a metallurgist in a precious metals mine.
What would you tell someone interested in joining your academic program or Mines in general?
Anyone who is interested in Mines and MME should know that they are making a fantastic choice as they will be prepared to do anything they set their minds to.
What's your favorite thing to do outside of class and coursework? How do you unwind, manage stress, find fulfillment, etc.?
Outside of class, I love to read and hike. Both offer an escape from the challenges of math and science and allow for a reset of the mind.
Tell us something about you that most people would be surprised to learn.
Most people would be surprised to know that I have never been skiing or snowboarding even though I grew up in Colorado.