Guess Oka: "My dream job will have to do with helping others become the best version of themselves."
Abidjan, Ivory Coast
MS, Mineral and Energy Economics '18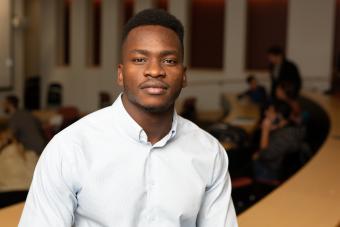 Why did you choose to come to Mines? What have you enjoyed most about being here?
Colorado School of Mines was one of my top choices for graduate school after completing my petroleum engineering degree in Texas. The main factor that swayed my decision towards Mines was the partnership the school had with IFP School in France for a dual master's. It was a wonderful opportunity that I simply couldn't pass up.
Tell us about something you're working on right now that you find exciting, fulfilling or challenging?
Mines has given me several opportunities to grow both academically and professionally. One my favorite outlets was the ability to participate in several case competitions. I took part in three case competitions overall, two intercollegiate ones and one within the school. My team and I were thrilled to bring one victory to our school from the Energy Africa Conference Poster Competition with a $2,000 first-place prize
Have you done an internship or co-op or been in a professional job while at Mines? Tell us who you worked for and what you were doing. What stands out?
While I did not have any opportunity for an internship nor a co-op due to the way my program was structured, I studied abroad in one of the most prestigious schools in France thanks to the relationship Mines had established with that school.
What communities, groups or organizations—on- and off-campus—are important to you and why?
I loved and still do love the International Student and Scholar Association being international myself, originally from Ivory Coast. Beyond international affiliation, the organization offers a variety of activities to help foreign students soak in the American culture without forsaking their roots. The Mines African Student Association (MASU) has similar goals and was also home for me when I was still in school
What are your plans for the future? What's your dream job?
My mid-term goal is to become a subject matter expert in my current role as a project analyst and future role of project manager. My dream job will have to do with helping others become the best version of themselves, whether it is professionally, academically, physically, emotionally or spiritually. That way, they could also help others better themselves
What would you tell someone interested in joining your academic program or Mines in general?
Have a picture of where you see yourself in the future career-wise (it does not have to be a clear picture), choose a major accordingly and go all in while seizing every opportunity along the way
What's your favorite thing to do outside of class and coursework? How do you unwind, manage stress, find fulfillment, etc.?
I'm a very active individual in the most literal sense of the word. That is, I love to lift weights several times a week and play sports, my favorites being soccer, volleyball, basketball, kickboxing, tennis, golf and snowboarding
To unwind from intellectual and physical activities, I enjoy playing my acoustic guitar, practicing yoga and making videos for my YouTube channel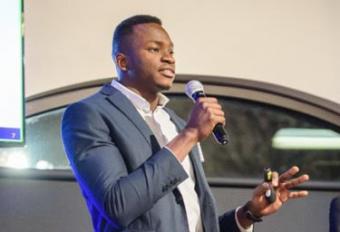 Tell us something about you that most people would be surprised to learn?
I do NOT know how to swim, if anybody can help, please reach out!