Green hydrogen: Colorado School of Mines researchers empowering future of energy
A closer look at hydrogen's role in the energy transition and the Mines researchers working on this critical challenge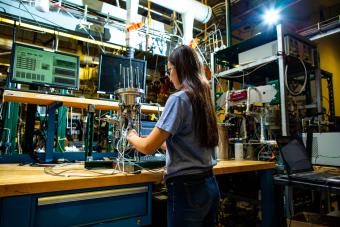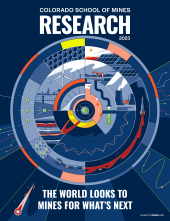 Hydrogen has emerged as a key player in the energy transition, identified by the International Energy Agency as a "versatile energy carrier" that has a diverse range of applications and can be deployed in a variety of sectors.
But is hydrogen a moonshot? Or does it really have the potential to change the energy game?
At Mines, teams of researchers are working on the hydrogen problem—from developing electrolyzers to separate hydrogen from other energy sources to developing and testing the ceramic materials in fuel cells and making them commercially viable and cost-effective. And they will tell you that hydrogen truly has the potential to supplement the world's energy profile in meaningful ways and help us successfully navigate the energy transition.
We talked to researchers working on projects across the scope of this issue to take a deeper dive into hydrogen technology, the challenges researchers are facing in this work today and how they're overcoming them and what the future looks like when powered by hydrogen.
How do hydrogen electrolyzers work?
The Colorado Fuel Cell Center has been exploring — and expanding — the possibilities of fuel cells and electrolyzers for a variety of inputs, outputs and applications for more than 15 years now.
But what's got Neal Sullivan, associate professor of mechanical engineering and the center's director, really excited these days is using the technology to create green hydrogen at scale.
Here, Sullivan explains the process that turns intermittent wind and solar energy into hydrogen that can be stored, transported and used whenever it is needed for chemical production, clean steel manufacturing, transportation and more. Read the full story >>
Discovering new ceramic materials to support the hydrogen economy
Electrolysis plays a significant role in sourcing hydrogen for use in fuel cells and other energy technologies. But the ceramic materials used in the electrolysis process must withstand unique stresses and conditions to operate efficiently.
Ryan O'Hayre, professor of metallurgical and materials engineering at Mines, discusses the ceramic materials he and his team of researchers at Mines are developing for this purpose and the many factors he must contend with when advancing this technology. Read the full story >>
Creating hydrogen membranes for use in nuclear fusion power plants
Fusion, the process that powers the sun and the stars, has long been a part of the conversation about low-carbon sources of electricity. Unlike nuclear power generated through fission, less waste is generated as a byproduct of fusion. However, there isn't currently a process that successfully produces power through fusion in a way that is cost effective, efficient and safe.
A project led by Chemical and Biological Engineering Professor Colin Wolden that began at Mines in January 2021 and is funded by the Advanced Research Projects Agency-Energy (ARPA-E) might be a key part in making fusion a realistic source of clean energy in the future.
The project's focus is not on the fusion process itself, but on generating and purifying the hydrogen isotopes that are the fuel for a fusion reactor. Read the full story >>
The cost of green hydrogen technologies
The appeal of green hydrogen is clear, but before hydrogen fuel cell and electrolyzer technologies can be adopted on a commercial scale, questions of cost, durability and performance still need to be addressed.
Svitlana Pylypenko, associate professor of chemistry, is looking for answers at the microscopic — and even nano — scale. Read the full story >>