Gravity offload rig for lunar rover testing wins Spring 2022 Capstone Design Showcase
Student-designed projects tackle problems using engineering and technology solutions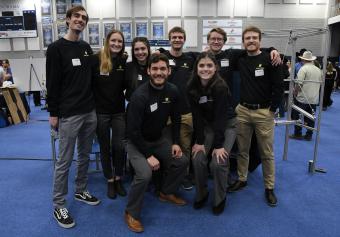 A gravity offload rig for testing lunar rovers that can simulate the gravitational conditions on the Moon here on Earth has taken top honors at the Spring 2022 Capstone Design Showcase at Colorado School of Mines.
The winning team designed and constructed a mechanical structure, electrical motion system, the closed loop feedback control system and the gravity offloading system that all function with mobile platforms – also known as rovers – to move them over a lunar test bed. The project also included upgrades to the existing lunar test bed at the Center for Space Resources at Mines.
The project was sponsored by Lunar Outpost, a Colorado-based technology company that focuses on developing technologies that can be used both on Earth and in space. The winning team was made up of Cole Binder, Jeffrey Hostetter, Max Kowalczyk, Benjamin Lineham, Henry Mizer, Danielle Mullen, Sydney Purdom and Emily Rago, and was advised by adjunct faculty member Donna Bodeau.
"There are not many universities where this kind of project could happen, because it needed the lunar test bed, which was already established here before we started," Lineham said. "Having things like an aerospace presence, having companies and professors and resources in aerospace all here at Mines made this project a lot easier to develop."
Tied for second place were two teams: Mobility and Safety Solutions and Tool Time: Design for Additive Manufacturing and Materials Optimization.
Mobility and Safety Solutions created a drop-in restraining belt to reduce falls from wheelchairs. The client for this project was Craig Hospital. Team members were Keaton Anderson, Aidan Bradley, Kevin Eaton, Morgan Trexler and Lucas Utke.
Tool Time was tasked with redesigning and optimizing existing hand tools and accessories using additive manufacturing for client Milwaukee Tool. Team members were Devin Aragon, Forrest Getz, Trevor Gill and Nick Wilkins.
Third place went to Smart Energy Monitoring, which created a monitoring system to passively measure electricity use so consumers can review and control their energy usage. The project was sponsored by Werner Kuhr, director of the Center for Entrepreneurship and Innovation at Mines. Team members were Brent Misare, Perry Rodenbeck, Brett P. Shearer and Nicklaus Zimkas.
Capstone projects were also recognized for their innovation, societal impact and proof of concept.
Best Innovation: Active Gravity Offload Rig for Rover Testing
Best Societal Impact: Sustainable Power Systems
Team members: Dahlia Byles, Kevin Greene, David Koehnke, Matthew Larivee, Andrew Zakhem
Best Human Systems: Adaptive Downhill Racer
Team members: Trent Dykema, Zachary Hoffman, Cora McCanlies, Melissa Pinson, Jessica Sigler, Daily Valdez, Kevin Zapanta
Best Proof-of-Concept: Tool Time: Design for Additive Manufacturing and Materials Optimization
The Spring 2022 Broader Impact Essay winners were:
First place: Seth Deibert for "What About the Space Junk"
Second place: James Talbott for "The Current, Current War: The Shortcomings of Alternating Current"
Third place: Faylyn Bruecken for "Water's Weight" and Trevor Gill for "Environmental Sustainability of Manufacturing"