Geology PhD student wins SRK U.S. scholarship
Garrett Gissler is exploring the geological events and processes that formed the Arista deposit in Mexico.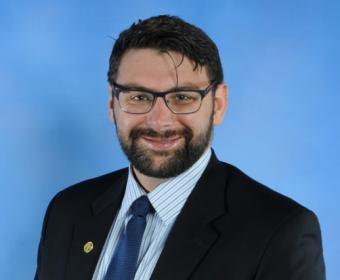 Garrett Gissler, a PhD student in the Center for Mineral Resources Science at Colorado School of Mines, has won the prestigious SRK U.S. scholarship for the 2019-2020 academic year.
SRK U.S., a consulting firm in the mining industry, established the scholarship program to encourage and support students undertaking graduate studies in fields related to mining.
Gissler holds an MS in earth resource engineering from Columbia University and a BS in geoscience from Colorado State University. His PhD advisor at Mines is Thomas Monecke, associate professor of geology.
Gissler's PhD research goal is to explore the geological events and processes that formed the Arista deposit located in the poorly studied southern extension of the well-known belt of epithermal deposits of Mexico. His objectives are to identify the processes that resulted in the formation of base and precious metal-rich veins at the deposit and to constrain the volcanological and structural controls on the deposit location. In addition, he is investigating the general depth limits of the fluid flashing process in hydrothermal systems within the epithermal environment.
Gissler employs a variety of microscopic and laboratory methods to complete his research goals, including radiometric dating, fluid inclusion microscopy and X-ray fluorescence. His work aims to shed new light on the processes of ore deposition in intermediate sulfidation epithermal deposits through the detailed study of quartz vein characteristics which elucidate the ore precipitation mechanisms, metal zonation, calc-silicate mineral occurrences, age of mineralization and controls on mineralization.
Also receiving 2019-2020 SRK scholarships from Mines are: