Frances Galgan: "I am confident that my education from Mines set me up to succeed in constructing creative, data-driven solutions..."
Vail, Colorado
MS, Engineering and Technology Management, '19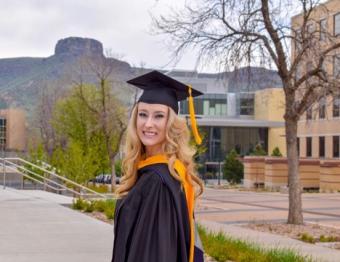 Why did you choose to come to Mines? What have you enjoyed most about being here?
Aside from Mines' renowned reputation, I knew that Mines would provide me with a great education and surround me with other students who were driven to achieve unique and exciting goals. In my time at Mines, I was fortunate to develop strong friendships and be inspired by many of the incredible projects students worked on throughout the school. It is a rare opportunity to be surrounded by so many innovative people working on things that will actually impact the world around us!
Tell us about something you're working on right now that you find exciting, fulfilling or challenging.
After graduation, I began working as a business and technology advisory consultant for an oil and gas consulting firm in Denver. As a consultant, I am constantly learning new things about the industry through a different lens at each client. Having the opportunity to see how different companies choose to solve the same problems has widened my perspective on how to tackle issues and get things done. At first, applying classroom knowledge in an industry setting can be challenging, but is both exciting and rewarding in many ways. While classes can never fully prepare you for life after graduation, I am confident that my education from Mines set me up to succeed in constructing creative, data-driven solutions for my employer and the clients I serve.
What are your plans for the future? What's your dream job?
I really enjoy working in consulting and hope over time to grow into a project manager role. I do not necessarily have a dream job—I am just looking forward to seeing what opportunities the future holds for me!
What would you tell someone interested in joining your academic program or Mines in general?
Understanding both the technical and non-technical aspects of the way a business functions is extremely advantageous for someone working in today's technology-driven society. You need both perspectives to understand how to make big ideas actually come to fruition! The ETM program sets you up to become a better cross-functional communicator and problem solver and is an excellent way for someone to blend their technical background with an interest in business.
What's your favorite thing to do outside of class and coursework? How do you unwind, manage stress, find fulfillment, etc.?
Outside of business hours, I am an avid skier, hiker and general fan of spending time outdoors. Spending time outside is one of the best ways for me to unwind from a busy week and find fulfillment in the world around me.