Fourth Industrial Revolution shaping next technological landscape
Colorado School of Mines and its graduates are stepping up to the challenge posed by latest cyber-physical expansion of industry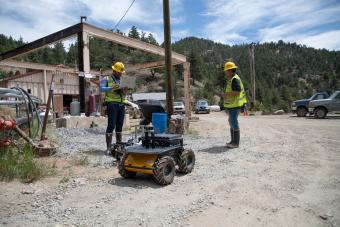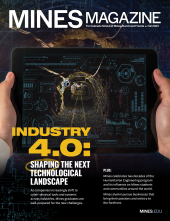 By Jen A. Miller, Special to Mines Magazine
In the First Industrial Revolution, water and steam mechanized production. In the second, electrical power enabled mass production. In the third, electronics and information technology made automated production possible.
The world is now in the midst of the Fourth Industrial Revolution: a cyber-physical expansion that is, according to the World Economic Forum, "blurring the lines between the physical, digital and biological spheres." This revolution, which started in the mid-2010s, is changing the ways we live and work due to increased development and implementation of technologies like artificial intelligence, machine learning, virtual reality and blockchain.
Cyber-physical tools will increase productivity, automate processes and solve more complex problems, opening new doors that no one even knew existed before. But what does the Fourth Industrial Revolution's promise mean for established industries that have enabled previous industrial revolutions, and how is Mines and its graduates stepping up to the challenge?
"We are going through a change in life," said Sebnem Duzgun, Fred Banfield Distinguished Chair of Mining Engineering at Mines. "Since we are in the middle of a lot of fast changes, it's really difficult to have an overview of those changes, but we are predicting – and prepared for – what's going to happen."
The mine of the future
For an industry like mining, the Fourth Industrial Revolution means envisioning and designing the "mine of the future," said Walter Copan, Vice President for Research and Technology Transfer at Mines. That means using resources like sensors connected through the Internet of Things (IoT), artificial intelligence, machine learning and autonomous systems to take a "holistic approach to understanding what a resource looks like and what opportunities there are to carry out an operation for mining and minerals processing in the most effective and environmentally sustainable way," he said.
It also means taking cues from other industries, like in medicine where laparoscopic surgery done robotically has become commonplace, and apply those enabled technologies. "You can have people in one part of the world carrying out delicate manipulations that are being done on the other end by robots and sensors," Copan said.
Cyber-physical technologies are now allowing those kinds of advancements and advantages to translate into mining, which is, due to the nature of the work, very different than the controlled and sterile environment of an operating suite. Technologies like robotics, automation, materials handling and advanced geospatial sensing are changing the way mining happens, Copan said, as are underground sensor networks and working in GPS-denied environments with IoT powered by 5G and quantum-based sensors. This work "makes sure we're getting the material efficiently and safely from the subsurface," he said.
These tools may also enable "total mining" where "you may be going after a particular metal like lithium or platinum or one of the rare earth elements we need for electric vehicles or advanced batteries," Copan said. Through cyber-physical technologies, instead of just mining for one thing, companies can "target other materials that are available in the same mining operation and seek to extract the total value" from a location, instead of doing so over and over again at multiple sites.
The goal is to use a combination of advanced technologies to extract resources "in the safest way possible and most efficiently with regards to water and other materials, controlling those processes to get the maximum value with minimal environmental damage," he said.
Embracing emerging technologies helps Mines meet industry demands
Throughout its history, Mines has been part of other technology revolutions, playing key roles in the rise of electronics, advanced computing and space exploration. Students are taught to be problem solvers and critical thinkers, whether they learn about that exact technology in the classroom or apply those skills to a new technology bursting on the scene. "Mines is preparing students at all levels to be confident problem solvers and ready with the foundational skills that help them see the big picture," Copan said.
Scott Fischaber '03 has had a front-row seat to see the Fourth Industrial Revolution in action, specifically how data collection and analysis has enabled changes to leap forward. In 2009, he co-founded Analytics Engines to build data analytics solutions to help other companies from across the public and private sectors to solve their business challenges using data.
In addition to this work, the company, which is headquartered in Belfast, Northern Ireland, runs a data analytics event there every year. It?s one of the many ways in which Fischaber has seen access to technologies, like data analytics change, and become more widely available.
"It was basically a bunch of technologists in the room 10 years ago," he said of the conference's early days. Then business-oriented professionals started to realize the power of data, which prompted investment from players like Google, Amazon and Apple. That in turn pushed the technology ahead and made it more affordable to everyone else.
"We see the same thing happening in the analytics and AI space, that these technologies that were in the field of multinational organizations are now in the hands of everybody else," Fischaber said.
It's a pattern that keeps repeating itself. Large language model AI-enabled chatbots went from exclusive products for global companies to something anyone can use through mainstream platforms like ChatGPT.
Fischaber said Mines enabled him to take his skills and apply them to these quickly adapting fields. "At Mines, I had the opportunity to do things I was interested in to prepare for my professional life, but I also got that wider grounding in engineering in general," he said, which is vastly different than the higher education system in the United Kingdom, where he earned his PhD and also where college students specialize much earlier.
Gianna Ricotta '11 has also been able to apply a Mines degree to a field that was just getting off the ground when she graduated. She expected to have a career in the oil and gas industry, and that's where she started after earning her degree. But she quickly realized that she was more interested in project management than strictly being an engineer. So she went back to school to earn her MBA and jumped into the tech space.
"I like the start-up life. It's trial by fire. You don't really have a set job description or role. I go around and plug holes where I see them," she said.
That's what she does as the director of product delivery at BurstIQ, a blockchain-enabled platform that "provides the back-end plumbing to connect a lot of disparate data," she said. Blockchain is a shared database, with an unchangeable ledger for recording transactions. Because "blocks" on the blockchain can't be altered, using this kind of database allows for different ownership models of how personal data is collected, managed and controlled.
Her experience at Mines prepared her to switch gears and work with technology with a potential that was just starting to be realized when she earned her undergraduate degree. While blockchain is normally associated with cryptocurrency, it's current and potential applications reach far wider, and she is steering how it can be used in the healthcare space.
Ricotta said she could make the career shift because "Mines encourages problem solving and curiosity," she said. She still uses techniques she learned at Mines to innovate and tackle engineering problems today.
She has also recruited fellow classmates to work for BurstIQ. "We want to be in a role where we?re making an impact and learning new things, and problem solving is foundational for a lot of Mines graduates."
BurstIQ also submits a project for Mines students to work on with the company every year, because she knows that students are learning how to think about engineering problems in new, Fourth Industrial Revolution ways and are going to be leading the charge into whatever that world will be.
"We are problem solvers," she said. "We see a problem here. Let's try to figure out why it's happening and how we can fix it to improve our process."
The Fourth Industrial Revolution pushes industry changes
Mines is bridging the gap when it comes to helping industry realize the potential of these technologies and making that mine of the future happen, even if it means pushing industries that traditionally have been slower to adopt new technologies into the future.
Mines' faculty is deeply involved in this work, as are students who are being prepared for careers impacted by the Fourth Industrial Revolution by working on real-world problems right now. Through the Innov8X studio at the McNeil Center for Entrepreneurship and Innovation, students can work on open-ended questions and incubate promising solutions to problems through either summer residency programs or as a class as part of their regular academic coursework.
"We bring the challenges of industry into the classroom," said Duzgun. "They say what they need, and based on those needs, our students find solutions."
It's far from unusual for those solutions to "lead to an innovation or establishment of a new startup company," she said, and that students are taking the solutions they develop to market.
This fall, Mines will also open the Beck Venture Center, which will offer guidance on business model development, introductions to mentors with technical or industry expertise and guidance for raising capital.
"Those centers are not only helping our students but also matching our students with alumni and faculty and their innovation needs," Duzgun said. "In terms of what Mines is doing, it's everything."