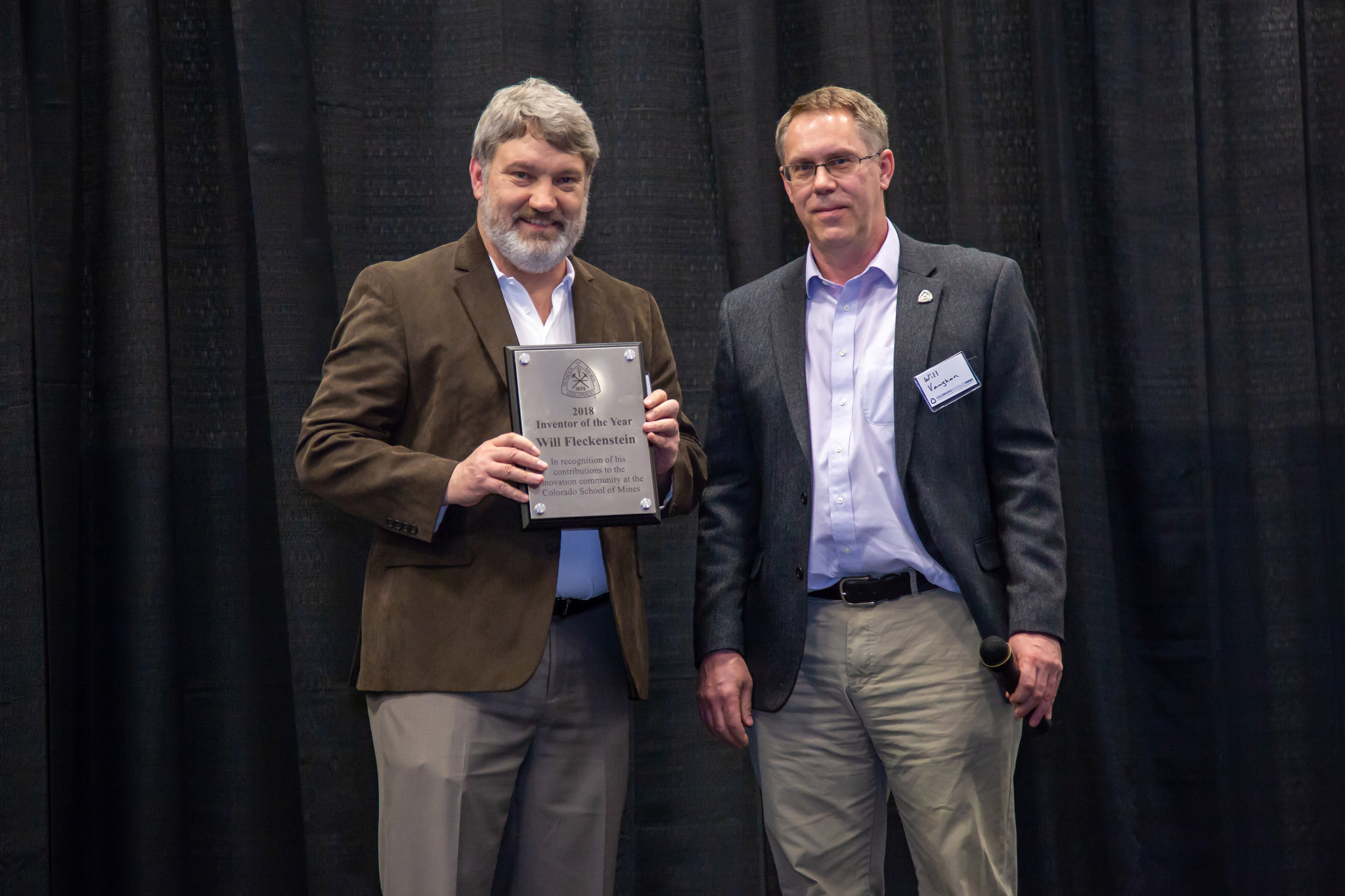 Will Fleckenstein, director of strategic relationships and enterprises for the College of Earth Resource Sciences and Engineering, has been named the 2018 Colorado School of Mines Inventor of the Year.
Fleckenstein, a non-tenure-track faculty member in the Petroleum Engineering Department since 2000, received the recognition at the
Design & Innovation Awards ceremony
 April 26.
"Will puts a lot of effort and thought into how best to get technologies to market and has the drive to overcome the inevitable setbacks," said William Vaughan, director of technology transfer at Mines. "His work with student teams to help design the prototypes of some of his inventions also demonstrates his commitment to the educational mission here at Mines – just the kind of innovator we want to honor."
In his time at Mines, Fleckenstein has submitted three inventions with practical applications in the oil and gas market, Vaughan said –the ACST, for testing the cement seals in wells; FracOptimal, which allows multistage hydraulic fracturing in longer laterals without having to drill out plugs; and the downhole tractor, allowing horizontal wells to be drilled further.
Fleckenstein also sponsored two Capstone Design teams this academic year to work on prototypes related to FracOptimal and downhole tractor.
Team Sparrow One developed a downhole tractor for hydraulic fracturing that uses a unique system to provide linear continuous force through the downhole environment. Team Frackenstein was challenged to develop a frac sleeve that could allow a uniformly sized ball to pass through at high pressures but still catch the ball and activate the inner sleeve at low pressures.
"The work with these two teams involved intellectual property development, project planning and financial aspects for moving these projects from the drawing board to fielding technologies in the field in a short period of time," Fleckenstein said. "I hope it becomes a model for the interdisciplinary work I believe is necessary to train Mines graduates to continue to be some of the most sought-after engineers in the world and help break down the silo walls between programs."
"I'm extremely humbled and honored to receive Mines Inventor of the Year Award. I believe that innovation and technology development will be key activities and cornerstones of Mines undergraduate education in the future," Fleckenstein said. "I'm very grateful to Dean Ramona Graves and President Paul Johnson for their support of my activities in this regard and hope that my commercialization efforts will bear fruit and take some financial pressure off traditional sources of revenue like tuition in the future."
CONTACT
Emilie Rusch, Public Information Specialist, Communications and Marketing | 303-273-3361 | 
erusch@mines.edu
Mark Ramirez, Managing Editor, Communications and Marketing | 303-273-3088 | 
ramirez@mines.edu