In first Quantitative Biosciences and Engineering field session, students explore what lives deep below ground
Interdisciplinary undergraduate program traveled to Edgar Experimental Mine to learn about underground biosphere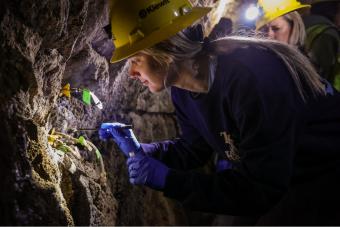 Colorado School of Mines' first interdisciplinary undergraduate program, Quantitative Biosciences and Engineering, held its inaugural field session this summer. 
As part of the immersive, hands-on learning experience, students traveled to the Edgar Experimental Mine in Idaho Springs to take samples of the microbes living on the underground rock walls. Back on campus, they headed straight to the lab to investigate what they found. 
"One science reason why we wanted to take the QBE Field Session underground at the Edgar Mine was to expose students to the living subsurface world and biosphere," said John Spear, professor of civil and environmental engineering.
"We can walk in to a mine or a cave and notice everything for what it is. But we now realize that the rock is alive — on it, in it and all around it — throughout any subsurface environment on Earth," he said. "Understanding how this ecosystem provides services to the local environment and world is critical to better understanding."
A total of 42 QBE students participated in field session, the undergraduate program's first since it launched in Fall 2021. The first class of QBE graduates received their Bachelor of Science degrees in May.
"The goal of our QBE field session was to investigate biological solutions for addressing plastic waste and recycling," said Justin Shaffer, teaching professor of chemical and biological engineering. "We did that through two projects: 1) by looking for new microbes in water and soil samples and 2) by engineering enzymes that have greater abilities to break down plastics. We are so proud of our 42 QBE students who successfully completed both projects in an action-packed three-week field session."