Water-Energy Education for the Next Generation, a Colorado School of Mines Research Experience for Teachers sponsored by the National Science Foundation, kicked off its first summer training with nine teachers from Colorado public schools. The six-week summer program focused on impacting K-12 STEM curricula by infusing standards-based, active-learning lessons with current research in the water-energy nexus.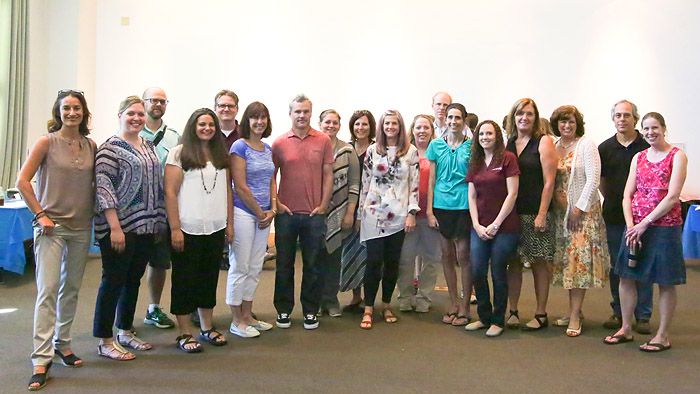 Left to Right: Stephanie Spiris, Melissa McVey, Professor Timothy Strathmann, Renee Adams-Lee, Associate Professor Chris Higgins, Jill-Maria Kuzava, Assistant Professor Chris Bellona, Patricia Brandenburger, Professor Terri Hogue, WE²ST Education & Outreach Specialist Amy Martin, Shannon Garvin, Associate Professor Josh Sharp, Research Assistant Professor Andrea Blaine, Research Associate Cassandra Glenn, Liz Hudd, Julie McLean, Professor Tzahi Cath, and Amy Dehne
Participants shared what they learned and how they would apply it in their classrooms in culminating presentations July 22. Melissa McVey, a sixth-grade science teacher at Bell Middle School in Golden, credited the faculty and graduate students she worked with for new ideas on how to incorporate lessons on biomagnification and contaminants. She plans to have her students study how plants can improve water quality, and ultimately design and create their own mini-wetland.
                                       
Melissa McVey shares insights gathered during her summer research experience at Mines.
Patricia Brandenburger, an eighth-grade STEM teacher at Deer Creek Middle School in Littleton, was similarly enthusiastic about the program, saying, "I learned a lot about hydrology, geology and geochemistry, which has made me rethink the way I want to teach our energy transformation unit."
WE²NG is an outreach component of the ConocoPhillips Center for a Sustainable WE²ST, led by Civil and Environmental Engineering Professor Terri Hogue and Research Assistant Professor Andrea Blaine. The program included technical, professional and pedagogical training, as well as weekly field trips to connect teachers with industry contacts. WE²NG will continue collaborative relationships with the teacher participants throughout the academic year.
Blaine hopes to see the program evolve and include even more local teachers next summer. "This first cohort of teachers has set the bar high," said Blaine.  She also expressed her hope that the collaboration between K-12 teachers, Mines faculty and industry leaders will change the way STEM education is delivered. Blaine added, "I believe that a systemic, sustained method of bringing real and exciting science problems into the classroom could revolutionize the way the next generation of scientists addresses critical issues."
Contact:
Deirdre Keating, Communications Manager, College of Engineering & Computational Sciences | 303-384-2358 | dkeating@mines.edu
Mark Ramirez, Communications Manager, College of Applied Science & Engineering | 303-384-2622 | ramirez@mines.edu