Doga Cagdas Demirkan: "Mines is the number one ranked school in the mining engineering field—that's why I chose to come here."
Ankara, Turkey
Mining Engineering PhD Candidate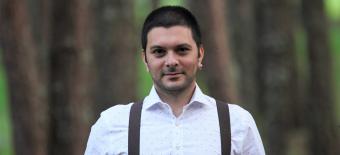 Why did you choose to come to Mines? What have you enjoyed most about being here?
My background is mining engineering and I want to continue on my academic life to earn a PhD. I started looking for the best universities around the globe and Mines is the number one ranked school in the mining engineering field. That's why I choose Mines. I enjoy all the Colorado things like snowboarding, 300 days of sunshine, nature and more.
Tell us about something you're working on right now that you find exciting, fulfilling or challenging.
My background might be mining engineering but I am an AR-VR developer and working with multidisciplinary teams every day. Connecting, working, communicating and achieving goals with people who have different backgrounds is very exciting, fulfilling and challenging all at the same time.
Have you done an internship or co-op or been in a professional job while at Mines? Tell us who you worked for and what you were doing. What stands out?
Yes, I did an internship this summer at NIST. I helped the engineering lab team to investigate the implementation of the visual parameters in AR.
What are your plans for the future? What's your dream job?
It doesn't matter if I am in academia or the private sector—I will love to continue working with cutting-edge technologies and implementing them in the industry.
What would you tell someone interested in joining your academic program or Mines in general?
They will definitely enjoy living in such a colorful state.
What's your favorite thing to do outside of class and coursework? How do you unwind, manage stress, find fulfillment, etc.?
As a PhD student, I don't have much free time but I love to practice yoga and take a hike. If it is winter I definitely go snowboarding.
Tell us something about you that most people would be surprised to learn.
I am a huge gamer until I start developing games. Now I can not play games like I used to.