Demonna Wade: "My dream is to give back to my community."
Computer Science Student
Coral Springs, Florida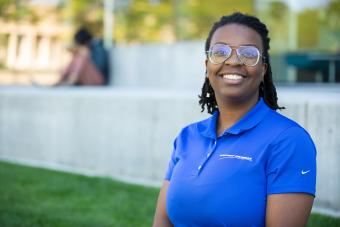 Why did you choose to come to Mines? What have you enjoyed most about being here?
My stepmother is a big supporter of Mines and understood the investment that the university has in its students. She knew that if I worked and studied hard, I would be successful. Without her push, I would not be here.
Tell us about something you're working on right now that you find exciting, fulfilling or challenging?
Currently, I am working with cloud and container technologies. With these technologies being so new, it gives me a chance to learn about changes in computer science and how to adapt to a fast-changing field of study.
Have you done an internship or co-op or been in a professional job while at Mines? Tell us who you worked for and what you were doing. What stands out?
I have been interning with Northrop Grumman in Boulder for three years. Northrop Grumman has provided me challenging and creative engineering problems that have grown my skillset as a computer scientist. They have allowed me to stand as an individual and demonstrate my skills while at the same, being able to make mistakes and learn from them.
What communities, groups or organizations, on- and off-campus, are important to you and why?
National Society of Black Engineers (NSBE) and Multicultural Engineering Program (MEP) are the main reasons I have been successful at Mines. Without these support systems, I would have either failed academically or changed universities. I also would not have received financial support, academic backing, career advise and placement without NSBE and MEP.
What are your plans for the future? What's your dream job?
My dream is to give back to my community in either one of two ways. I want to grow the technical skillset within my demographic community in the U.S. or contribute to the technological advancements in Africa.
What would you tell someone interested in joining your academic program or Mines in general?
Even though it may be challenging, it is still an experience I would not change. Studying computer science at Mines has given me the flexibility to work in any career field, as well as any location. I have confidence that I could excel in any situation.
What's your favorite thing to do outside of class and coursework? How do you unwind, manage stress, find fulfillment, etc.?
I enjoy roller skating to 90s and early 2000s R&B music during adult nights in Aurora, CO.