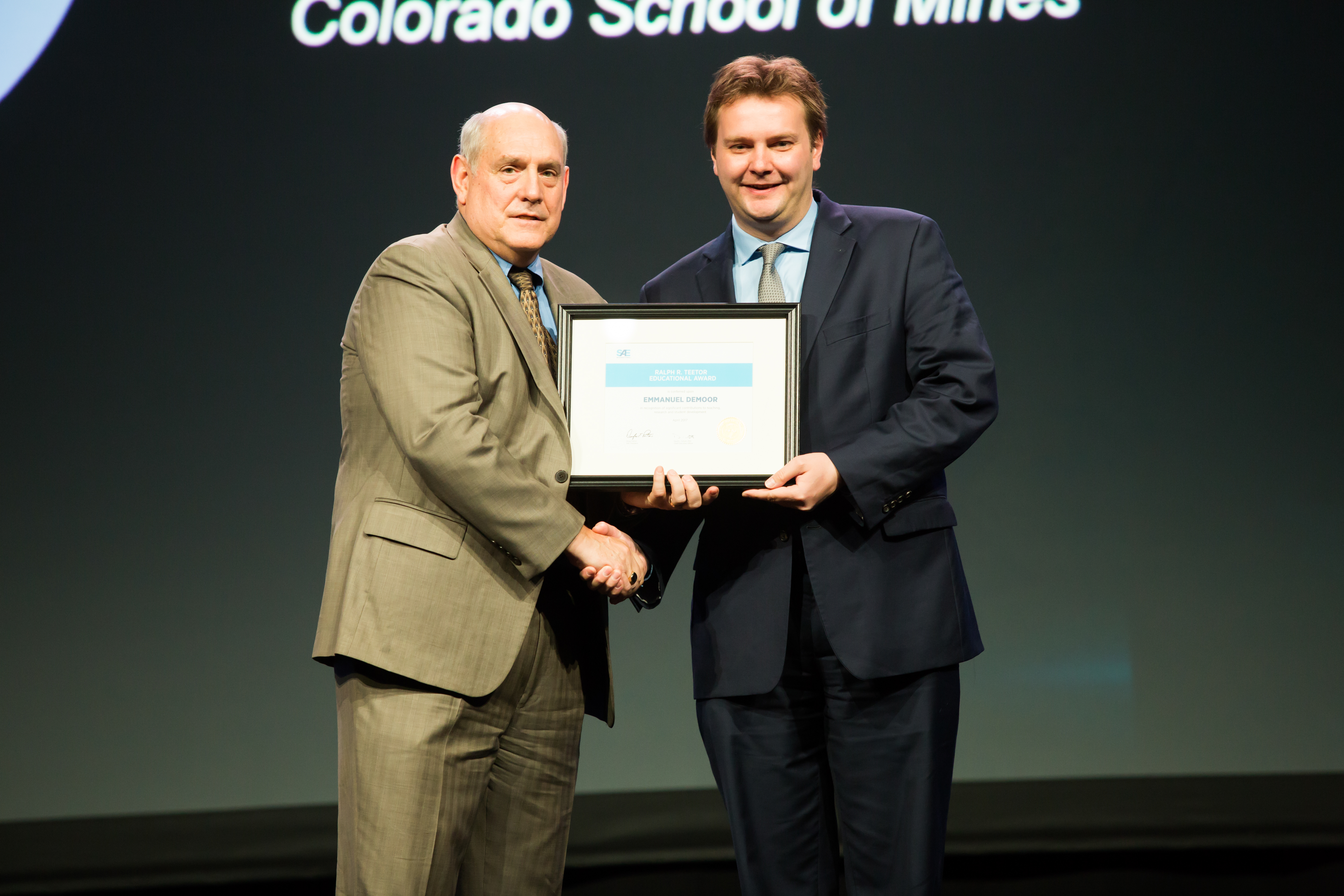 Colorado School of Mines Assistant Professor of Metallurgical and Materials Engineering Emmanuel De Moor has received the Ralph R. Teetor Educational Award from SAE International, a global association of engineers and experts in the aerospace and automotive industries.
De Moor was one of seven to receive the award in ceremonies held April 3, 2017, during the SAE World Congress in Detroit.
The award, named after the 1936 SAE International president, is awarded to engineering educators with more than three but fewer than 10 years of full-time faculty experience. They are selected based on their contributions to teaching and curriculum development, their research and publications related to SAE International's interests, among other criteria.
De Moor joined Mines as a research assistant professor in 2010, and was named assistant professor in 2014. He holds a bachelor's degree in applied science and master's and doctoral degrees in materials science from Ghent University in Belgium. He is a member of the Advanced Steel Processing and Products Research Center and is focused on the effects of heat treating on the microstructural development and mechanical properties of steel.
In addition to a trip to a major SAE International meeting—either the World Congress or the SAE AeroTech Congress and Exhibition—and specialized tours with auto manufacturers and aerospace corporations, Teetor Award winners receive a framed certificate and two years of SAE International membership.
CONTACT
Mark Ramirez, Managing Editor, Communications and Marketing | 303-273-3088 | ramirez@mines.edu
Joe DelNero, Digital Media and Communications Manager, Communications and Marketing | 303-273-3326 | jdelnero@mines.edu